DIN Rail Power Supply delivers 30 W and 24 V.
Press Release Summary: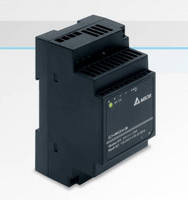 April 29, 2014 - Measuring 55.6 mm thick and 91 mm tall, Chrome DRC-24V30W1AZ is designed for use in compact cabinets. Class II double isolation power supply features universal AC input voltage without power derating and does not require earth connection. Providing efficiency greater than 87.0%, unit includes overvoltage, overcurrent, and over temperature protections. It is especially useful for home automation and food/beverage industry.
Original Press Release
Delta introduces Chrome DIN Rail Power Supply Series in 30W with 24V Output Voltage
Press release date: April 21, 2014
Samutprakarn, Thailand— Delta Electronics, Inc., the global leader in power and thermal management solutions, is extending its Chrome DIN rail power supply series with a 30W product offering 24V output voltage. The Class II double isolation power supply is designed for use in compact cabinets. The DRC-24V30W1AZ requires less installation space with its compact body measuring only 55.6mm thick and 91mm tall. The design not only does not require earth connection, it also has very low leakage current and is thus especially useful for home automations and the food and beverage industry.
Highlights & Features
- Protection Class II, Double Isolation (No Earth connection is required)
- Universal AC input voltage without power de-rating
- Efficiency > 87.0%
- NEC Class 2 / Limited Power Source (LPS) certified
- Overvoltage / Overcurrent / Over Temperature Protections
- International safety approvals to ITE and Industrial standard
Other product details for DRC-24V30W1AZ are available on the homepage.
AVAILABLE FOR SHIPMENT NOW.
New models are introduced on a regular basis. For more information or enquiries, please do not hesitate to contact your local Delta Electronics distributor or visit
www.DeltaPSU.com
.
About Delta Group
Delta Group, founded in 1971, is the global leader in power and thermal management solutions. Our mission statement, "To provide innovative, clean and energy-efficient solutions for a better tomorrow," focuses our role in addressing key environmental issues such as global climate change. As an energy-saving solutions provider, Delta's businesses encompass power electronics, energy management, and smart green life. Delta has sales offices worldwide with R&D centers and manufacturing facilities in Taiwan, China, USA, Europe, Thailand, Japan, Singapore, India, Mexico and Brazil.
Throughout its history, Delta Group has received many global awards and recognition for its business milestones, innovative technology and corporate social responsibility. Since 2011, Delta has been selected as a member of the prestigious Dow Jones Sustainability™ World Index (DJSI World) for 3 consecutive years. In 2013 it was also included in the DJSI Emerging Markets Index and ranked first in six criteria among DJSI's World-leading Electronic Equipment, Instrument and Component Companies segment.
For detailed information on Delta Group, please visit:
www.deltaww