Product News: Sensors Monitors & Transducers
Digital Transducer accelerates dynamic scale system response.
Press Release Summary: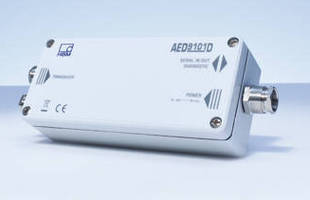 January 21, 2013 - With stable thermal state reached soon after turn on, AED9101D accelerates operational readiness for weighing technology applications. Electronics process signals from strain gage full bridge transducers, making them digitally available via various interfaces – Profibus, DeviceNet, RS232/422/485 – free from interference and over extended distances. Design features include maximum number of load cells per amplifier independent of supply voltage.
HBM Test and Measurement - Marlborough, MA
Original Press Release
Optimized Transducer Electronics Make Dynamic Scale Systems Faster
Press release date: January 17, 2013
Measurement technology specialist HBM presents a new version of its AED9101D digital transducer for faster weighing technology.

MARLBORO, MA – The HBM AED9101D transducer electronics process signals from strain gage full bridge transducers, making them digitally available via various interfaces such as Profibus, DeviceNet or RS232/422/485, free from interference and even over greater distances.

In the new "D" version, a stable thermal state is reached sooner after turn on, making the scale ready for accurate operation almost twice as fast. Another advantage is that the maximum number of load cells per amplifier is independent of the supply voltage.

"According to the International Organization of Legal Metrology (OIML), their International Recommendations state that check weighers, for example, have demands for a stable state of 'zero' with a very high display resolution," says Reiner Schrod, International Product Manager for HBM. "If an instrument needs 5 or 10 minutes to heat up, then the weighing instrument is not available during this time. Users want to power on and start the weigher immediately and the new AED9101D helps them do that."

The AED9101D can be used in various applications. Typical examples are batching scales, check weighers, filling scales and many more static or dynamic scales.

The new digital AED9101D transducer enables rapid operational readiness for weighing technology applications.

HBM Test and Measurement
Founded in Germany in 1950, HBM is today the technology and market leader in the field of test and measurement. HBM's product range comprises solutions for the entire measurement chain, from virtual to physical testing. The company has operated in the USA since 1973, has production facilities in Germany, USA and China, and is represented in over 80 countries worldwide.

HBM Test and Measurement
North America Media Relations contact: John Sotirakos Tel.: 508-804-3285
Fax: 508-485-7480
Email: marketing@usa.hbm.com