Digital Intelligence Tools promote manufacturing productivity.
Press Release Summary: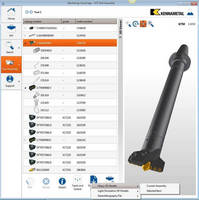 September 18, 2013 - Comprised of Tool Advisor, Tool Selector, Tool Configurator, and Job Functionality tools, NOVO™Â addresses need for improved productivity and process knowledge for manufacturing companies. Support for CAD models, complete assembly lists, automated job report functionality, and more promotes process planning efficiency. Users can access this solution via PC application and tablet solutions and are provided with all knowledge from 50,000+ branded Kennametal products.
Original Press Release
Kennametal Launches NOVO(TM) - Digital Intelligence to Accelerate Productivity in Customer Manufacturing Processes
Press release date: September 17, 2013
Revolutionary solution integrates collective machining knowledge and experience to dramatically change the way that work gets done.
Tool selection, tool configuration, and the best applicable tooling advice based on the customer's part and process requirements are all at the touch of a few mouse clicks in Kennametal's revolutionary NOVO™. CAD models, complete assembly lists, automated job report functionality and much more all promise new levels of process planning efficiency.
Here, a model of an HTS Drill Assembly is shown with all associated inserts, adaptors, and spare parts. NOVO™ accomplishes in minutes what formerly took hours and yields an optimized solution backed by Kennametal expertise, every time.
In a revolutionary development designed to address the critical need for improved productivity and process knowledge for manufacturing companies, Kennametal is launching NOVO™, a new set of digital tools that promises far-reaching improvements in manufacturing efficiencies.
"This is a huge leap beyond simply providing a digital version of the tool and its physical properties," says John Jacko, VP & Chief Marketing Officer at Kennametal. "With NOVO™'s embedded intelligence in application engineering and process planning, Kennametal and our partners are opening the path to a completely connected digital art-to-part-to-profit process. NOVO™ is a big step in bringing such a vision to reality."
Experience Powering Productivity
Online catalogs and tool selectors have become common options for manufacturers looking for the latest tool solutions for their production process. NOVO™ goes far beyond the concept of the online catalog by integrating the application engineering and production experience of Kennametal's 75-year history.
"This is the true integration of our knowledge with our customers'," says Francois Gau, Vice President, Strategic Marketing and New Business Development. "Simply put, NOVO™ is a process enabler – a true digital assistant with data-rich machining strategies that starts working from the moment you receive a parts drawing. With a refined and intuitive tool advisor, tool selector, and tool configurator, everything down the line gets more efficient—from parts quoting through programming, presetting, and production. The result is the absolute assurance you have the right tool to do the job."
NOVO™ is process knowledge delivered via the Machining Cloud™. It stands alongside such web-available solutions as MTConnect™ for data gathering and ISO 13399 for standardizing tool data.
NOVO™ solves many challenges for process planners, manufacturing engineers, and those who want the most efficient machining strategies based on the features of their parts. Customers are able to access NOVO™ via a PC application and tablet solutions coming later this fall. With the click of a button, the user will have access to all of the knowledge from more than 50,000 branded Kennametal products to achieve a more productive solution in a fraction of the time spent searching catalogs.
"NOVO™ works like a process planner," explains Thomas Long, head of the newly formed Virtual Machining RDE department at Kennametal. "It works from the feature back to the machining strategy and then finds the best tools for each strategy. In addition, each project is tied to application data gleaned from Kennametal's experts and decades of experience. Search for a specific Kennametal part and you also get models and all associated inserts, adaptors, and spare parts. Not only does it accomplish in minutes what formerly took hours, it yields an optimized solution, backed by Kennametal expertise, every time."
Addressing the Skills Gap
Facing ever-increasing demands for productivity and efficiency, manufacturing technology providers have responded with computer-driven machine tools, digital-based computer-aided design and manufacturing software (CAD/CAM), and significant advances in tooling. Yet one major barrier threatens this scenario: a significantly widening skills gap as older workers retire and new workers fail to engage in manufacturing careers.
"To effectively bridge the skills gap for our customers, we have developed this innovative platform to distribute the collected knowledge of Kennametal," says Gau. "More than a catalog, NOVO™ brings users into a community, harnessing all ongoing expertise, and providing fast access to best-in-class process knowledge. The result empowers users by providing the right solutions specifically tailored to their operations. It solves problems instead of managing data."
Only the Beginning
The vision for NOVO™ is to be integrated with major CAD/CAM packages and machine tool CNC controls, so designers or programmers will have instant access to Kennametal knowledge at the touch of a button without having to leave their function.
"NOVO™ means new way of doing things– the ability to get information quickly combined with the best strategy on how to use it," Gau says.
For more information, visit
www.kennametal.com/NOVO
.
NOVO™ Fact Sheet 1: The Data Community
NOVO™ is process knowledge delivered via the cloud. It stands alongside such web-available solutions as MTConnect™ for data gathering and ISO 13399 for standardizing tool data.
Kennametal is collaborating with the following industry leaders are collaborating to power NOVO™ and the Machining Cloud:
-ESPRIT CAD/CAM Software by DPTechnology
-Okuma
-DMG / Mori Seiki
-WinTool
-Siemens PLM Software
-Zoller
The community of data users includes but is not limited to:
-Manufacturing engineers
-Production planners
-CNC programmers
-CNC operators
-Design engineers
-Quality control
-Purchasing and maintenance
-Plant management
All users in such a diverse data community can stay in their environment. Rather than forcing changes in behavior, NOVO™ instead streamlines access to digital knowledge through established data exchange systems, accessible via a PC application and tablet solutions coming later this fall.
NOVO™ Fact Sheet 2: The Machining Cloud Application powered by NOVO™
NOVO™ is comprised of four major functional tools:
1. Tool Advisor
2. Tool Selector
3. Tool Configurator
4. Job Functionality
NOVO™ can be used in a number of intuitive ways. Users can begin by:
-defining machining features to determine the best machining sequence to do the job, or
-searching for a preferred tool and grade.
NOVO™ smart filters take the task of selecting ALL cutting tool components from hours to minutes, while users get the assurance that the list is comprehensive and correct.
1. The Tool Advisor is a rules engine application which provides cutting tool recommendations.
Example: "I need to make a 12mm hole x 40mm deep"
Define Machining Features
-Face milling, slotting, blind hole, etc…
-NOVO™ immediately reduces the product set to those that can do the job, taking into account:
Constraints Requirements
-Geometric
-Material
-Tolerance
-Machine
Machining Sequences
-Rough, Finish, Rough and Finish (single tool, multi tools)
-Multistep operations - i.e. Drill and Tap
NOVO™ then ranks the results based on knowledge-based rules to best meet the challenges of the application as defined by:
-Customer Requirements
-Operating Environment
-User Preferences
2. The Tool Selector provides the user with a method of selecting cutting tools from a tree structure using hierarchy / parametric search using fits-with / works-with technology.
Example: "I Need a 20mm by 5xD Solid Carbide Drill Grade KC7315"
Quick Search
-Where customers know what product they are looking for, catalog number or product description.
Or, search using smart attribute filters
-By selecting the product attributes the software down-selects the products that are available to do the job
Fits-With / Works-With technology for assembly build
-After the tool item is selected, NOVO also gives the options on what cutting item and adaptive item fits (and also "works with")
NOVO™ smart filters take the task of selecting all cutting tool components from hours to minutes.
3. In both cases, NOVO™'s Tool Configurator then provides all CAD files and graphic support for all tool components and their assembly – a major time savings for customers.
4. NOVO™'s Job Functionality stores all tool list and CAD files for future use.
Example: "I want to save a list of tools required for a job for future reference or purchase"
The Job Functionality is a cloud-based repository that is linked to a user by a unique i.d. where tool lists can be stored for future use, editing, copying, and sharing.
Can easily download into attractive standard report forms
-Includes tooling commercial and dimensional data and weights
-Feed and Speed
-Pictures and Models
Sharing
-Easy to e-mail to other users, will appear in their cloud list
-Easily convert into shopping cart for purchasing via Kennametal Konnect
-Easy to copy-paste into other systems
NOVO™ Fact Sheet 3: The Knowledge
NOVO™ will utilize cloud functionality so everything is up-to-date, assuring users have access to the latest available tool information for process improvement.
In addition, the results of NOVO™ use can be easily downloadable into standard report formats including:
-All tooling dimensional data
-Application data, such as speeds and feeds
-CAD models and graphics
Reports can be shared enterprise-wide via email and are able to be copied and pasted into enterprise resource planning (ERP), manufacturing execution systems (MES) or other software-based applications as necessary.
NOVO™ in Action
Kennametal is actively using NOVO™ in a unique area – customer support. The company receives hundreds of calls and emails daily, with inquiries ranging from designing equipment and processes to end-user issues.
"Up to 90 percent of our calls are verification requests -- people wanting to be sure they're choosing the right products," says Dan Dunmire, Kennametal Customer Application Support (CAS) manager. "Using NOVO™, we can now pull up their tool in seconds; see the assemblies and all of the parts that they need; and plug in speeds and feeds for their particular processes. We can easily review different scenarios, apply their information, save to a PDF file, and email it out. Customers know in minutes they have the right tool, as well as all the related components necessary for what they want to do."
When identifying tools needed to machine the component pictured above, NOVO™ provides the user with one comprehensive report listing all necessary tools, and detailed dimensional data and application parameters for each tool. The result empowers users by providing the right solutions specifically tailored to their operations.
In each comprehensive report, NOVO™ provides all associated data for each tool assembly, including detailed dimensional data and the application parameters to machine the component. More than a catalog, NOVO™ brings users into a community, enabling collaboration. All jobs are stored on the Machining Cloud and can be easily shared with fellow NOVO users. The dimensional data of the tool items and assemblies can be output in an XML format that can be imported directly into CAM and tool management systems to eliminate the need for manual data entry.
Kennametal
Celebrating its 75th year as an industrial technology leader, Kennametal Inc. delivers productivity to customers seeking peak performance in demanding environments. The company provides innovative wear-resistant products, application engineering and services backed by advanced material science, serving customers in 60 countries across diverse sectors of aerospace, earthworks, energy, industrial production, transportation and infrastructure. With approximately 13,000 employees and nearly $3 billion in sales, the company realizes half of its revenue from outside North America, and 40% globally from innovations introduced in the past five years. Recognized among the "World's Most Ethical Companies" (Ethisphere); "Outstanding Corporate Innovator" (Product Development Management Association); and "America's Safest Companies" (EHS Today) with a focus on 100% safety, Kennametal and its foundation invest in technical education, industrial technologies and material science to deliver the promise of progress and economic prosperity to people everywhere. For more information, visit the company's website at
www.kennametal.com
.
Kennametal Inc.
1600 Technology Way
PO Box 231
Latrobe, PA 15650-0231
USA
Kathy LINDEN
Phone: 724 539 5698
Fax: 724 539 6766
kathy.linden@kennametal.com
Kennametal Shared Services GmbH
Wehlauer Strasse 73
D-90766 Fuerth
Carsten GROMOLL
Phone: +49 911 9735 557
Fax: +49 911 9735 551
carsten.gromoll@kennametal.com
Powered by TCPDF (
www.tcpdf.org
)