Product News: Test & Measuring Instruments
Digital I/O Card extends DAQ system capabilities.
Press Release Summary: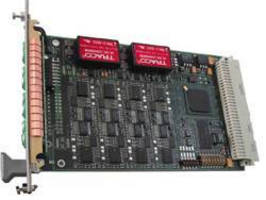 October 5, 2012 - Designed for ADwin-Pro-II Modular Real-Time Data Acquisition and Control System, DIO-32-TiCo provides applications with 32 TTL I/Os, built-in edge detection or edge output with time stamp, and 256 MB external memory. Module also features local TiCo processor with 100 MHz clock to detect events within 100 ns at 5 ns accuracy. With local processor, user can download part of application to run on card without requiring interaction and management from ADwin system's main processor.
Original Press Release
CAS DataLoggers Offers New Digital I/O Card for ADwin-Pro-II DAQ
Press release date: October 3, 2012
ADwin Digital I/O Cards Extend Your System Capabilities
CHESTERLAND OH—CAS DataLoggers has partnered with ADwin to offer the DIO-32-TiCo Digital Input and Output Module for the powerful ADwin-Pro-II Modular Real-Time Data Acquisition and Control System. The new card provides your application with 32 TTL inputs/outputs, built-in edge detection or edge output (100 MHz) with time stamp, and 256 MB external memory. The module also features a local TiCo processor with a 100 mHz clock to detect events within 100 nanoseconds at a 5-nanosecond accuracy, ideal for high-speed digital applications.
Our digital input and output modules form the interfaces to your measurement devices and digital sensors. With the new digital module's TiCo local processor, you can download part of your application to run on the card without requiring interaction and management from the ADwin system's main processor. This enables distributed applications and higher-speed framing for your critical communication types.
The module is easily programmed with ADbasic instructions. Programming in ADbasic instructions are described in ADbasic online help and in the Pro II Software manual, while the included file ADwinPro_All.inc contains instructions for several common functions.
CAS DataLoggers also offers additional digital modules suitable for various signal types including optocoupler inputs, relay outputs, transistor outputs, and PWM outputs. More choices include cards for analog, counter, bus systems, temperature measurements, and customer-specific modules.
ADwin systems support parallel, individually-controlled, real-time processes while running independently of a PC's operating system to provide deterministic operation with response times of 1 usec. or less. These advanced systems are commonly used for testing automotive components, sensors and ECUs, , control of servohydraulic systems, motion control, synchronized data acquisition, and more.
Key features of ADwin systems are their tightly-coupled analog and digital inputs along with counters providing extremely low latency operation. The ADwin-Pro-II Series utilizes a modular form factor with plug-in modules to allow up to 480 analog or digital inputs in a single chassis, along with a high-performance 300 MHz DSP processor and Ethernet communications interface. There are also a variety of other I/O options including CANbus, SSI, Profibus/Fieldbus, RS-232/485, and signal conditioner modules.
This flexible system is available in full, half and quarter rack mainframes and either AC or DC powered versions.
The extraordinary speed of the Pro-II system provides complex applications with high data rates. In addition, the fast processor allows an intelligent pre-selection of relevant data, mathematical functions or digital channel filtering T11. All new Pro-II modules run on the Pro-II bus automatically sync, allowing fully-synchronized time measurements with multiple modules without any special software effort.
The ADwin Pro-II is available in a broad variety of robust housing for various applications, including as a desk system for the lab, a portable system for travel, or as a system for panel mounting. The 5-16 slots and the number of different modules are the ideal, flexible foundation for rapid real-time applications.
For more information on the ADwin-Pro-II real-time data acquisition and control system, other sophisticated data acquisition systems from ADwin, or to find the ideal solution for your applicationspecific needs, contact a CAS Data Logger Applications Specialist at (800) 956-4437 or visit the website at
www.DataLoggerInc.com
.