Product News: Sensors, Monitors & Transducers
Digital Accelerometer includes built-in analytical tools.
Press Release Summary: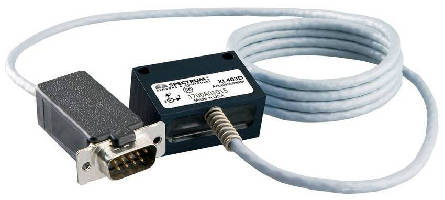 October 29, 2012 - Available from ±1 g to ±15 g and with low pass filter bandwidths from 1–800 Hz, Model XL403D supports SCPI-like commands, returns data in engineering units, and works with any standard terminal emulator. Output is user configurable, allowing customers to choose number of axes, units returned, bandwidth, sample rates, and readout display results. Microcontroller takes 10-bit samples and performs temperature compensation and additional functions as programmed for output via RS-485 interface.
API Technologies Corp. - South Plainfield, NJ
Original Press Release
API Technologies Debuts Breakthrough Digital Accelerometer with Built-in User-Controlled Analytical Tools
Press release date: October 22, 2012
ORLANDO, FL and WASHINGTON DC - API Technologies Corp. (NASDAQ:ATNY) ("API" or the "Company"), a trusted provider of RF/microwave, microelectronics, and security solutions for critical and high-reliability applications, announced today its new XL403D Advanced Digital Accelerometer. The patent pending XL403D is the first a ccelerometer of its kind that supports SCPI-like commands, returns data in engineering units, and works with any standard terminal emulator. It will be showcased for the first time this week at Booth #4347 in Hall C at AUSA 2012 in Washington DC.

"This accelerometer opens up a whole new world of sensing technology by performing functions such as evaluating minimum/maximum, magnitude, peak-to-peak, and tilt - right in the accelerometer itself," said Larry Howanitz, Vice President, EIS & Sensors, API Technologies. "And because the sensor conducts internal processing itself, it can eliminate additional hardware which saves our customer time and money. It truly is the next generation of accelerometers."

In addition to internal processing functions, the output is user configurable allowing customers to choose the number of axes, units returned, bandwidth, sample rates, and readout display results. It is an ideal solution for testing military and aerospace components, monitoring vibration of aircraft, measuring inclination of portable field masts, and adding threshold detection and warnings to military and aerospace systems.

The sensor contains a temperature sensor, microcontroller, and analog outputs in a small, easy-to-install package. The microcontroller takes 10-bit samples and performs temperature compensation and additional functions as programmed for output via the RS-485 interface. It is available from +/-1 g to +/-15g and with low pass filter bandwidths from 1 to 800 Hz. Additional information, including technical and mechanical specifications, can be found at  http://www.specsensors.com/pdfs/DSXL403D.pdf.

API Technologies' Sensors line is the leading manufacturer of precision position sensing, temperature sensing, and inertial measurement products. The Company offers a wide line of custom and off-the-shelf products and is a preferred supplier to many of the world's leading OEMs. For additional information, please visit www.apitech.com/sensors, or contact API's sales team at sales@apitech.com or by calling 855-294-3800. 

About API Technologies Corp.
API Technologies designs, develops and manufactures electronic systems, subsystems, RF and secure solutions for technically demanding defense, aerospace and commercial applications. API Technologies' customers include many leading Fortune 500 companies. API Technologies trades on the NASDAQ under the symbol ATNY. For further information, please visit the Company website at www.apitech.com