Product News: Mechanical Power Transmission
Diesel Engines target stationary standby electric power market.
Press Release Summary: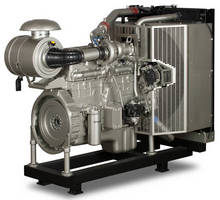 November 19, 2012 - Supplied fully fitted with radiators, charge coolers, air cleaners, pipes, hoses, and mounting feet, 1600 Series ElectropaK electronically controlled, turbocharged, air-to-air charge-cooled engines provide standby power in North America as well as prime power in lesser regulated territories. These 6-cylinder, 9.3 L diesel engines offer up to 275 kWe EPA-certified standby power at 1,800 rpm and 250 kWe prime power for lesser regulated territories.
Original Press Release
Exciting Options for Key Nodes for the North American Standby Market Unveiled by Perkins
Press release date: November 15, 2012
A new range of diesel engines targeting the stationary standby electric power market has been launched by Perkins®. Designed to meet key market nodes, the new 1600 Series ElectropaK, satisfies an important customer demand for power between the current Perkins 1106D and 2000 Series range.

The 1600 Series ElectropaK family comprises a range of full authority electronically controlled, turbocharged, air-to-air charge-cooled engines that have been developed to provide standby power in North America, as well as prime power in lesser regulated territories in a clean and cost-effective fashion with special emphasis placed on power density, reliability and durability.

Perkins 1600 Series is a six cylinder 9.3 liter diesel engine offering up to 275 kWe EPA certified standby power at 1800 rpm and 250 kWe prime power for lesser regulated territories: 50 Hz 1500 rpm ratings are also available for other territories.

Supplied fully fitted with radiators, charge coolers, air cleaners, pipes, hoses and mounting feet, Perkins ElectropaK engines provide a fully engineered turnkey package that can be integrated easily and efficiently to drive generator sets.

For OEMs and generator set packagers the key benefits include the combination of higher power density and load acceptance, which effectively means the 1600 Series can achieve outputs normally associated with larger displacement engines, while offering a space and cost saving opportunity during installation.

The tropical radiator, which is fitted as standard, ensures that there is high ambient clearance at even the highest temperatures. With little or no derate the unit can produce its maximum output virtually anywhere in the world.

Built for durable and economic use, the 1600 Series' operating and maintenance costs are low thanks to its reduced fuel consumption. Whole life costs have been lowered through a recommended 500 hour service interval; the standard Perkins warranty and the availability of Perkins extended service contracts.

"The 1600 Series is an exciting addition to the range and will bring real benefits to customers in the stationary standby electric power market," said Greg Reaves of Perkins Americas Electric Power Sales. "It's a very versatile power source and is typically used on a construction site or as standby power for a supermarket or chicken farm. We believe customers will be pleased with the new range which has been designed to meet their demands." 

Perkins offers a range of small, medium and large diesel engines which provide 4-2000 kWe (5-2500 kVA) and which meet all the key power nodes within that range. ElectropaKs are easy to install power sources for stationary on-site power generation or ultra efficient combined heat and power solutions.

Perkins is one of the world's leading suppliers of off-highway diesel and gas engines in the 4 – 2000kW (5 – 2800 hp) market. Perkins key strength is its ability to tailor engines precisely to meet customers' requirements, which is why its engine solutions are trusted by more than 1,000 leading manufacturers in the industrial, construction, agricultural, materials handling and electrical power generation markets. Perkins global distributor network provides support wherever needed around the world. An extremely high standard is set to ensure the distribution network provides an outstanding service to all customers.

Further information
For more information on this release please contact:

Annette Ward
Corporate & Marketing Communications Manager
Tel: 0044 1733 582185
Email: ward_annette@perkins.com