Product News: Electrical Equipment & Systems
Diagonal Cutting Pliers feature box-joint design.
Press Release Summary: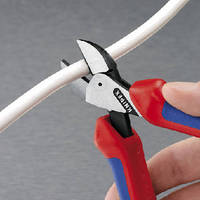 February 25, 2014 - Suitable for industrial, trade, and craft applications, X-Cut Pliers can cut through fine strands with precision, but also feature large jaw opening for multi-strand cables. Box-joint design provides stability and eliminates backlash movement, while slim shape of tool's head provides access in confined spaces. Manufactured of forged and oil-hardened chrome-vanadium, heavy-duty steel, cutters are available with polished or chrome-plated finish and multi-component handles.
Knipex Tools LP - Arlington Heights, IL
Original Press Release
KNIPEX Tools Introduces New X-Cut Pliers
Press release date: February 1, 2014
Award-winning diagonal cutter offers precise and powerful cutting with a light-weight design
ARLINGTON HEIGHTS, Ill. — The new X-Cut cutting pliers, from KNIPEX, is a compact, light-weight, powerful and precise box-joint diagonal cutter.
The X-Cut pliers offers a wide range of cutting capabilities for industrial, trade and craft applications. The new cutter cuts through fine strands with great precision, easily cutting through materials similar to hard piano wire, but also features a large jaw opening for multi-strand cables. The powerful X-Cut model requires 40 percent less force than conventional diagonal cutters.
The box-joint design of the X-Cut cutter gives the tool greater stability while eliminating backlash movement and the slim shape of the tool's head provides easy access in confined spaces. A double-supported joint axis and optimum coordination of the cutting edge angle, combined with a high-lever ratio allow for heavy-duty, high-capacity cutting.
The X-Cut pliers is the second KNIPEX tool to win a 2013 iF Product Design Award, presented by an independent jury of internationally respected designers, entrepreneurs and professors. The criteria met for this award included design quality, degree of innovation, environmental impact, functionality, ergonomics, visualization of intended use, safety, brand value and branding, as well as the universal aspects of design.
"This KNIPEX innovation provides professionals with a general-purpose diagonal cutter which will meet the most varied needs including electrical and metalworking needs," said Alan W. Sipe, president and general manager, KNIPEX Tools.
Manufactured of forged and oil-hardened chrome-vanadium, heavy-duty steel, the X-Cut cutter is available in a polished or chrome-plated finish with multi-component handles. An insulated X-Cut model is also available.
About KNIPEX Tools
KNIPEX Tools LP is the North American sales and marketing organization of KNIPEXWerk and is located in Arlington Heights, Ill. KNIPEXWerk, Wuppertal, Germany, is the largest manufacturer of professional quality pliers in the world, producing up to 65,000 pliers per day, or up to 325,000 pliers each week. The company concentrates its efforts on being the best pliers manufacturer in terms of quality, innovation and efficiency and its pliers satisfy the highest expectations in terms of performance, ergonomics and service life.
www.knipex-tools.com