Product News: Electronic Components & Devices
Desktop Diode Laser facilitates dental procedures.
Press Release Summary: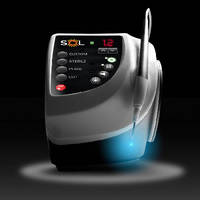 February 11, 2013 - With internal battery, SOL™ Soft Tissue Laser allows clinician to move between operatories for over 3 hr without plugging in cord. Fiber spool cord management ensures unwanted lengths never interfere with procedures, while blue aiming beam contrasts with tissue to optimize visibility. To minimize hand fatigue, ergonomic handpiece provides optimal posterior access in multiple positions. Applications range from gingival contouring and tissue retraction to laser-assisted periodontal therapy.
Original Press Release
DenMat Introduces New SOL(TM) Soft Tissue Laser Technology... for True Portability, Power, and Precision
Press release date: February 4, 2013
LOMPOC, Calif.,  -- DenMat continues an impressive run of innovative product introductions in the professional dental products and equipment sector with SOL(TM), the desktop laser that redefines performance expectations. SOL's enhanced ergonomics, easy-to-use interface, and a high-contrast blue aiming beam combine to make laser dentistry simpler and more efficient than ever. It's also incredibly affordable.

"SOL is about bringing smart technology to the dental practice, cost effectively," commented Robert Cartagena, Chief Operating Officer, DenMat. "We've designed this powerful technology to bring all the essential features a clinician needs in a soft tissue laser system at a value no other laser can match."

Diode lasers perform a wide range of procedures--from gingival contouring and tissue retraction for impression-taking to laser-assisted periodontal therapy--with greater patient comfort, faster healing times and often without the need for local anesthetic.

SOL is engineered to make laser therapy truly convenient and simple. Its internal battery and light weight allows the clinician to move between operatories for over three hours without ever plugging in a cord, and the fiber spool cord management system ensures that unwanted lengths never interfere with clinical procedures. Three simple and easy-to-use settings simplify treatment protocols, with an additional custom setting for specific demands.

SOL is also designed to make life easier for clinicians. The industry's first blue aiming beam contrasts with tissue to enhance visibility and accuracy. The curved, ergonomic contours of the handpiece provide better posterior access in multiple positions, reducing hand fatigue during longer procedures. Disposable tips eliminate the inconvenience and inconsistency of strip-and-cleave systems.

"The new DenMat is committed to creating smarter clinical solutions that also provide exceptional value to our customers," said Steven Semmelmayer, Chief Executive Officer, DenMat. "SOL fits into this portfolio perfectly--better performance through better design. It's that simple."

For more information about SOL laser technology, contact DenMat at 800-445-0345 or visit www.DenMat.com.

About DenMat
DenMat Holdings LLC, manufactures in its new state-of-the-art facility in California a broad range of cosmetic, restorative and clinical product solutions, available in the U.S. and over 68 countries worldwide. Innovative products and new distribution partnerships continue to position DenMat in the forefront of the dental industry, from LUMINEERS®, the most patient-requested thin veneers in dentistry, to innovative diagnostic and clinical solutions including VELscope® and PeriOptix®, as well as industry brand names like the FLASHlite® and Magna(TM) 4.0 curing lights and Splash!® VPS impression materials. The DenMat Lab is recognized as a leading laboratory for both minimally invasive and traditional-preparation restorations, while DenMat Education offers Continuing Education programs internationally, including Destination Education events. For more information, visit www.denmat.com or call 800-433-6628.

Web Site: http://www.denmat.com