Product News: Automatic ID
Desktop Barcode Printer combines high capacity, 6 ips operation.
Press Release Summary: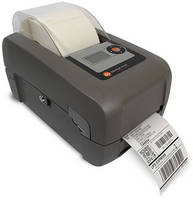 July 30, 2012 - Accommodating applications that require secure printing or continuous uninterrupted printing, E-Class Mark III Professional Plus (Pro+) features locking media cabinet with internal media capacity for 7.2 in. roll of media or stack of fan-folded media. Graphical display with navigational menu interface lets users generate labels and tags without using computer. Additional features include RTC, audible alerts, USB host connectivity, as well as optional WLAN and Bluetooth communications.
Original Press Release
Datamax-O'Neil's E-Class Mark III "Professional Plus"Barcode Printer Bridges the Gap Between Desktop and Industrial
Press release date: July 24, 2012
The latest E-Class Mark III printer offers features typically found in industrial printers but at a desktop printer size and price

BOURG-LÈS-VALENCE, FRANCE - Datamax-O'Neil, a global provider of industrial grade label and receipt printing solutions, announces the availability of its newest E-Class Mark III printer model, the Professional Plus (Pro+). The Pro+ offers a locking media cabinet and enough internal media capacity to hold a 7.2-inch roll of media or stack of fan-folded media - the ideal printer when applications require secure printing or continuous uninterrupted printing. Similar to the Professional model, the Pro+ also offers a fast print speed, expanded communications, real time clock, audible alerts and large display - features normally found in industrial class printers, but available with the E-Class Pro and Pro+ at a desktop printer price.

"Our new E-Class Mark III Professional Plus model meets a need in the marketplace that has up until now been unanswered," said Raul Palacios, Senior Product Manager for Datamax-O'Neil. "The locking media cabinet is perfect for printing tickets and other media that needs to be protected. In addition, the 7-inch media capacity means less downtime for media replacement maintenance. The technology, features and price makes the E-Class Pro+ a one-of-a-kind in our marketplace."

The Pro and Pro+ expands on the E-Class Mark III Advanced model with features like a graphical display with a navigational menu interface that lets users generate labels and tags without using a computer, real time clock, USB host connectivity, faster print speed at 6 ips, and optional wireless LAN and Bluetooth communications. It is the ideal desktop printer for manufacturing, healthcare, retail and postal service markets.

"We conducted a lot of research from end users about what features they needed to make their business run more efficiently and the EClass Pro+ addresses many of these requirements," Palacios explained. "The Pro+ gives our customers many of the features found in high-priced industrial printers but in a desktop size and price. Many customers found themselves buying an industrial printer just for a single feature only available in an industrial product, the Pro+ answers that call."

About Datamax-O'Neil Datamax-O'Neil is a trusted global provider of stationary, portable and mobile label and receipt printing solution products that enable manufacturing and supply markets to capture the benefits of automated product identification and automated legal and financial transactions. Datamax-O'Neil is the barcode and mobile printing business group of Dover Corporation's Printing and Identification segment. The company's products address a wide variety of applications, including those in the industrial, healthcare, retail, automotive and ticketing market sectors. Datamax-O'Neil is headquartered in Orlando, Florida, and maintains key facilities in California, Illinois, and France, as well as sales and technical support offices around the world.

Press contact Datamax-O'Neil: PSM&W Kommunikation GmbH Beatrice Gaczensky PR Senior Consultant Tel.: +49 (0)69 970705-42 Fax: +49 (0)69 970705-55 do@psmw.de

Contact Datamax-O'Neil EMEA: Charlotte Barthélemy Marketing Manager EMEA Tel: + 33(0)475 756 311 Fax: + 33(0)475 829 839 cbarthelemy@datamax-oneil.com