Product News: Green & Clean
DC Brush Motors provide noiseless operation.
Press Release Summary: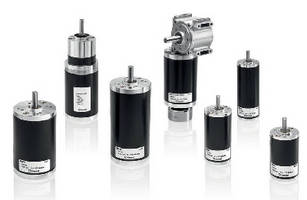 November 8, 2012 - Supporting 12, 24, and 48 V power supplies, DCmind Brush Series includes 15, 25, and 55 W models with 42 mm diameter, and 55 and 104 W motors with 63 mm diameter. Units are available with rear brake and optical or Hall-effect encoders with 1 or 2 channels. Operating at noise level of 35 db, motors provide more than 80% efficiency and minimum service life of 5,000 hr when used with normal power loads. Typical applications include medical equipment, office equipment, and household appliances.
Original Press Release
Crouzet Introduces New Generation of DC Brush Motors
Press release date: November 5, 2012
Featuring Silent Operation, Long Service Life and High Efficiencies
SAN DIEGO, Calif., − Crouzet, a brand of Custom Sensors & Technologies (CST), has introduced the astonishingly quiet DCmind Brush range of direct current brush motors.  These soundless motors, even under full load, offer exceptional efficiencies, long service life, and a wide range of gearboxes and accessories.   Because of its noiseless operation, the DCmind Brush motor series is particularly well suited to applications in medical, laboratory, industrial and high performance printing industries.   They can also be used in a variety of other applications such as pumps and valves, railways, and aeronautics.
The new DCmind Brush motors have a noise level of only 35db ‒ about the sound of a whispered conversation ‒ and 20db less than the current motor standard range.    Key to its silent operation is the precise engineering work during the product design phase.   Careful attention was paid to selection of high quality magnets, brushes and ball bearings as well as to special shaping and balancing of rotor poles.  These factors combined to dramatically reduce the energy dissipated through vibration and resonance levels.   The result is not only the quietest motor on the market, but also a motor with more than 80% efficiency and a minimum service life of 5000 hours when used with normal power loads.  Under reduced load conditions, service life can be increased to as much as 24,000 hours.
The new product range includes 15, 25 and 55 watt motors with a 42mm diameter, and 55 and 104 watt motors with a 63mm diameter.  DCmind Brush motors support 12, 24 and 48 volt power supplies and are available with several accessories and adaptations, including rear brake, optical or Hall effect encoders (1 or 2 channels), connectors and wires, voltage, speed and power, and shaft dimensions and material. 
The motor's extremely low sound level meets several standards in applications for medical (IEC 60601-1) office equipment (IEC 60950), and household appliances (IEC 60335).  All new motors are approved in accordance with UL 10004-1, CE, and support IP56, IP67 and IP69K.  They are also RoHS compliant. 
"The new DCmind Brush motor generation adds a premium product to our current offering," says Jerry Brierton, BEI Kimco & Crouzet Motors National Sales Manager.  "With its remarkably quiet operation, quality design and manufacturing, it greatly expands our application reach.  Additionally, Crouzet's eco-design strategy has cut the environmental impact of the product's overall life cycle in half while at the same time improving the product's energy efficiencies."  
DCmind Brush motors are available from stock to 12 weeks.
For more information, contact Crouzet, 2320 Paseo de Las Americas, Suite 201, San Diego, California 92154 USA, Toll-free: (800) 677-5311; E-mail: CRZ-NA.Motors@crouzet.com, Web:
www.crouzet.com
.
Technical information.  
About Crouzet:
For over 50 years, Crouzet Automatismes, the automation control component manufacturer, has offered complete motorization solutions: motors, DC geared motors, brushless motors and geared motors, motorization solutions, electronic cards, synchronous motors, stepper motors, linear motors, voice coil actuators, etc. 
These products are particularly suitable for use in medical equipment, valves, pumps, access control (barrier, turnstile, lift doors, etc), water treatment, billboards, etc.
www.crouzet.com
About Custom Sensors & Technologies:
Custom Sensors & Technologies (CST) is a specialist in sensing, control and motion products. Through its brands, BEI Kimco, BEI Sensors, BEI PSSC, Crouzet, Crydom, Kavlico, Newall and Systron Donner Inertial, CST offers customizable, reliable and efficient components for mission-critical systems in Aerospace & Defense, Transportation, Energy & Infrastructures, Commercial & Industrial OEMs, Medical, Food and Beverage and Building Equipment markets.
Focused on premium value offers and committed to excellence, CST, with 4,700 employees worldwide and sales of $660M US in 2011, is the dependable and adaptable partner for the most demanding customers.
www.cstsensors.com