Product News: Test & Measuring Instruments
Data Logger checks food temperature with push of button.
Press Release Summary: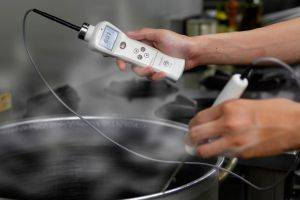 January 7, 2014 - Equipped with needle probe, T&D Food Core Temperature Data Logger gives users way to check and store internal food temperatures, helping to comply with HACCP regulations. When measured temperature exceeds customer-selected boundaries, logger shows alarm condition via blinking red LED. Unit can automatically collect and send recorded data to designated e-mail address or FTP server over wireless and LAN network. Logger features water- and oil-proof design as well as IP68 submersible rating.
Original Press Release
Check Your Food Temperatures with the Push of a Button
Press release date: January 6, 2014
CAS DataLoggers and T&D Have Your HACCP Compliance Solution
CHESTERLAND OH — CAS DataLoggers and T&D have just announced the latest product for food safety management for steam tables and buffets, caterers, and more—the new T&D Food Core Temperature Data Logger. Now vendors have a reliable way to check and store internal food temperatures minutes in the middle of work to help avoid health risks. Equipped with a needle probe, these dataloggers fully comply with HACCP regulations--just push a button and you've got an accurate temperature record of your product over time and in different environments. For use with T&D's RTR-500 Series wireless data loggers, these new devices are now available from CAS DataLoggers to give small businesses a cost-effective way to automate their operation.
Easier to check and more accurate than glass thermometers, the Food Core Temperature Data Logger is effective for HACCP-compliant temperature management. The clear LCD shows many factors including current temperatures, battery level and more. T&D's durable water and oil-proof design makes the data logger ideal for use in food processing and cooking operations, recording without any issues due to its IP68 submersible rating.
Push-Button Recording
It's easy for staff to inspect food temperature in a minute or so using these portable data loggers. With only one push of a button, the device records Temperature, Measurement Time, Item, and makes a judgment result by checking whether the measurement is within the preset upper/lower limits. Users can also choose to measure in Celcius or Fahrenheit.
Automatic Data Collection
These new temperature data loggers can automatically collect and send their recorded data to a designated e-mail address or an FTP server over a wireless and LAN network. The Food Temperature Logger can also be used in conjunction with T&D RTR-500 series loggers, which are perfect for measuring and monitoring ambient temperatures in both indoor and outdoor environments including warehouses, refrigerators and freezers. In this way recorded data can be periodically collected by the T&D Base Unit (RTR-500NW/500AW) via wireless communication out to about 150 ft. direct and unobstructed and then sent over the network or FTP server.
Battery Charging Dock with Communication Capability
The temperature data logger is powered by 2 AAA batteries and requires a Battery Charge Dock (sold separately) to charge the internal batteries. By connecting the dock to a PC with a USB cable, the dock also acts as a communication interface for setting up the data logger.
Available in 4 Models depending on Sensor Type
There are 2 types of temperature sensor: a straight rod sensor (one-piece unit) and a cable-to-grip sensor (easy to measure temperature in steam). Furthermore, each type comes in 2 lengths: the short one having a sharp tip and the long one having a round tip.
Alarm Function Helps Protect Your Products
Users can make custom upper and/or lower limit settings for each food item. When the measured temperature exceeds these boundaries, the datalogger shows an alarm condition via the blinking red LED.
These new data loggers give workers an easy way to comply with regulations, extend product shelf life and prove best practices to receivers. See what T&D can do to automate your business!
To streamline your food processing operation with these new temperature data loggers, or to find the ideal solution for your application-specific needs, contact a CAS Data Logger Applications Specialist at (800) 956-4437 or visit the website at
www.DataLoggerInc.com
.