Product News: Sensors Monitors & Transducers
Data Acquisition/Control System is used for vibration monitoring.
Press Release Summary: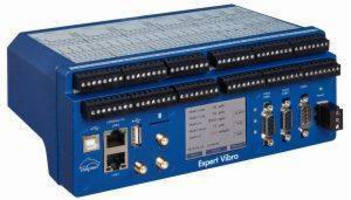 January 29, 2014 - Used to monitor bearings, shafts, and machinery, Expert Vibro combines monitoring, analysis, and diagnostic capabilities. Each input can be linked to multiple tracks with individual filtering and processing, and each track is equipped with several spectra and characteristic values. Along with 4 analog outputs, 8 digital outputs, integrated comparators for Keyphasor® sensors, and 4 digital inputs, there are 16 synchronous analog inputs that support sampling rates up to 50 kHz per channel.
Original Press Release
Delphin Expert Vibro DAQ System for Vibration Monitoring
Press release date: January 27, 2014
A Single System Performs Monitoring, Analysis and Diagnosis
CHESTERLAND OH — In critical industrial processes, the condition of bearings, shafts and machinery needs to be continually monitored to avoid scrap and serious damage to equipment. Users need a high-speed, high-accuracy system to capture these vibration signals and improve process reliability. For these demanding applications, CAS DataLoggers and Delphin Technology offer the latest in vibration measurement: the Expert Vibro Data Acquisition and Control System. Users can rely on this compact state of the art signal processing device combining monitoring, analysis, and diagnosis capabilities all in one system. With local data storage capability and versatile fieldbus connections, the Expert Vibro makes it easy for users to utilize vibration measurement technology in their own business-critical applications.
Vibration Monitoring Applications
The initial feedback we've received from Expert Vibro users shows it's ideally suited to many different types of industrial measurement application. Examples include:
• Monitoring and observing shaft vibrations on turbines, generators, superchargers, engines and compressors;
• Analyzing bearing vibration and damage;
• Monitoring and analyzing pressure vibrations in boilers, on tube bundles or in combustion chambers;
• Analysis of gear vibrations;
• Vibration measurements on test stands;
• Remote monitoring of vibrations in plants, machinery, and more
Users can process analog signals extremely flexibly by utilizing tracks: each input can be linked to multiple tracks with individual filtering and processing. An acceleration signal can then be integrated into velocity and used to form a spectrum or the required characteristic values. The same analog input can use another track to become integrated into displacement--each track is equipped with several spectra and characteristic values. Configuration is easy to perform and a sophisticated copy-and-paste function enables users to quickly accomplish complex configurations. Users can run multiple sequences in parallel in order to evaluate an input signal for maximum versatility, while the touchscreen display shows important configuration and measurement data onsite.
The Expert Vibro's online computation and analysis features are possible using the latest high-performance FPGA processor technology. System installation and familiarization are quickly accomplished so that users can quickly start processing data, saving costs and avoiding troublesome interface problems. While other systems usually require multiple pieces of equipment, Expert Vibro systems can be used where vibration measurement systems had previously been considered cost-ineffective.
The extraordinary benefits users gain from the Expert Vibro are thanks to its diversity of internal functions that can be configured in an intuitive and logical way. Expert Vibro data loggers measure, monitor and record fully independently. Non-periodic signals (for ex. fault diagnostics) can be precisely analyzed, and even the smallest of irregularities are recorded. The system also performs fast limit value monitoring of time signals.
Flexible Inputs and Outputs
The Expert Vibro's 16 synchronous analog inputs support high sampling rates of up to 50kHz per channel, and all channels are galvanically isolated to prevent transverse distortions. The system also features 4 analog outputs and 8 digital outputs for monitoring,; integrated comparators for Keyphasor® sensors; and 4 digital inputs enabling flexible triggering. The system's digital outputs allow data to be monitored "on the fly" giving users the ability to switch within milliseconds in the event of limit value violations. Meanwhile the system's 24-Bit A/D converter ensures high-precision measurement. The Expert Vibro system is also equipped with its own internal 32 GB/1 billion point data logger memory, making it both reliable and secure.
Modular Expandability
Optional integrated Wi-Fi, GSM, UMTS or LTE modules are available for standalone operation. Additional features include pluggable screw terminals and a DIN rail-mounting.
Powerful Measurement and Analysis Software
The Expert Vibro is fully compatible with Delphin ProfiSignal software and can be used in conjunction with the "Vibro" option enabling record-keeping and statistic functions. ProfiSignal is a professional software system performing data acquisition, visualization, analysis, and automation. For example users can switch the analog inputs between voltage, IEPE and shaft vibration measurement. With an intuitive interface, ProfiSignal is modular, scalable and available in 3 versions: Go, Basic and Klicks. Each of these versions has backward compatibility for operability, data files and application projects.
Connect with PLCs and PCs
Users can synchronize multiple Expert Vibro devices to process vibration data from many channels. Expert Vibro dataloggers can also be connected to PCs via LAN or USB. Two PROFIBUS interfaces are available as well as Modbus TCP for fieldbus connections.
Give us a call and see the extraordinary capabilities of the Expert Vibro device for yourself! Our Application Specialists will be happy to give you a demonstration and advise you on your particular application.
For more information on this single solution for your vibration monitoring applications, or to find the ideal solution for your application-specific needs, contact a CAS Data Logger Applications Specialist at (800) 956-4437 or visit the website at
www.DataLoggerInc.com
.
Contact Information:
CAS DataLoggers, Inc.
12628 Chillicothe Road
Chesterland, Ohio 44026
(440) 729-2570
(800) 956-4437
sales@dataloggerinc.com
www.dataloggerinc.com