Product News: Computer Hardware & Peripherals
Data Acquisition Cards suit aerospace applications.
Press Release Summary: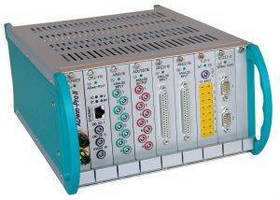 January 27, 2014 - Available for Jager's ADwin-Pro-II Data Acquisition Systems, PRO-II-MIL 1553 card has MIL-STD-1553 serial data bus interface capable of 1 Mbps speeds. Module features 2 bus connection and also supports 16-bit SMT bus monitor. Using ARINC-429 serial bus interface with transmitter and 2 receivers, PRO-II-ARINC-429 card supports speeds up to 100 KHz. Module utilizes TiCo processor to handle local preprocessing of data. Both support high-speed avionics manufacturing and test applications. 
Original Press Release
New Data Acquisition Cards for Aerospace Applications
Press release date: January 24, 2014
Bus Modules for High-Speed Avionics Manufacturing and Test Applications
CHESTERLAND OH— CAS DataLoggers now offers 2 new data acquisition bus modules for Jager's ADwin-Pro-II Data Acquisition Systems. Expressly designed for use in commercial and military aerospace applications, these cost-effective modules support new serial interfaces for ADwin users. These cards expand ADwin's advanced test capabilities and enable new project areas including avionics manufacturing, testing, and more.
ADwin systems and modules give users communication options and datalogging with real time pre-processing of data. These ADwin-Pro II modules work with various bus systems and serial interfaces. An ADwin-Pro II system can simultaneously send messages and data via RS232, communicate with devices via CAN bus, and control a test stand. The following DAQ cards are now available:
• ADwin's new PRO-II-MIL 1553 card has a MIL-STD-1553 serial data bus interface capable of 1Mbit per second speeds. The card features 2 bus connections and also supports a 16-bit SMT bus monitor. These modules are ideal for network communication of aerospace equipment such as test stands and subsystems, and they have recently become popular in commercial applications as well.
• Additionally, the new PRO-II-ARINC-429 card uses an ARINC-429 serial bus interface with a transmitter and 2 receivers. This high-speed module supports fast speeds of up to 100kHz and utilizes a TiCo processor to handle local preprocessing of data.
Allowing users to leverage all the DAQ capabilities of the ADwin Pro-II AND enabling networked aerospace equipment communication, these new cards are powerful additions for ADwin users. Our PRO-II systems are modular, intelligent real-time systems for fast data acquisition and control in the most demanding industrial applications.
ADwin systems feature tightly-coupled analog and digital inputs along with counters which provide users' applications with extremely low-latency operation. The ADwin-Pro II Series utilizes a modular form factor with plug-in modules to allow up to 480 analog or digital inputs in a single chassis, along with a high-performance 300 MHz DSP processor and Ethernet communications interface. There are also a variety of other I/O options including CANbus, SSI, Profibus/Fieldbus, RS-232/485, and signal conditioner modules. The extraordinary speed of the Pro II system provides complex applications with a high data rate, and the fast processor allows an intelligent pre-selection of relevant data, mathematical functions or digital channel filtering T11.
All the new Pro-II modules running on the Pro- II bus automatically sync, allowing fully-synchronized time measurements with multiple modules without any special effort from software. The new ADlog data logging software for ADwin systems opens new fields for intelligent datalogging applications when combined with the ADwin system's hardware capabilities.
To learn more about what our ADwin DAQ systems can do for your monitoring and control application, or to find the ideal solution for your application-specific needs, contact a CAS Data Logger Applications Specialist at (800) 956-4437 or visit the website at
www.DataLoggerInc.com
.
Contact Information:
CAS DataLoggers, Inc.
12628 Chillicothe Road
Chesterland, Ohio 44026
(440) 729-2570
(800) 956-4437
sales@dataloggerinc.com  
www.dataloggerinc.com