Product News: Test & Measuring Instruments, Computer Hardware & Peripherals
DAQ Processor Board offers real-time computing.
Press Release Summary: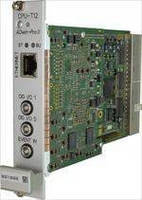 July 18, 2014 - Available for ADwin-Pro-II Data Acquisition and Control Systems, Pro-CPU-T12 Processor Module offers 1 Gb Ethernet support for high-speed data transfer, enabling standalone data recording in applications where there is no PC or connection to one. Board includes 1 GHz clock, 1 GB main memory for storing code and data, and 64-bit floating point unit for math co-processing. Additional features include trigger input, 2 digital I/Os, and ability to run C code embedded into ADbasic code.
Original Press Release
New Processor with 64-Bit FPU for ADwin-Pro-II DAQ Systems
Press release date: July 17, 2014
ADwin Delivers Giga-Performance for the Most Demanding Applications

CHESTERLAND OH – CAS DataLoggers and Jager are proud to introduce a new processor board for ADwin-Pro-II Data Acquisition and Control Systems which has a 64-bit FPU (Floating-Point Unit) for math co-processing. The new Pro-CPU-T12 processor module offers powerful real-time computing and is largely software-compatible to previous versions. With Ethernet support enabling high-speed data transfer, ADwin's Pro-CPU-T12 module enables standalone data recording in applications where there's no PC or connection to one. This powerful solution is ideal for satisfying the most demanding applications including physics experiments, vibration monitoring, failure analysis, and high-speed data acquisition.

The Heart of the ADwin-Pro II System
The processor module--the ADwin CPU--is the center of each ADwin-Pro II data acquisition system. It executes the ADbasic programming instructions and accesses the inputs, outputs and interfaces of the other modules.

ADwin's new Pro-CPU-T12 processor offers powerful Giga-performance, with a 1 Gigahertz clock, 1-Gigabyte main memory for storing code and data, and a 1-Gigabit Ethernet interface for communication to the PC. All this makes the 64-Bit double-precision FPU 5x faster than its predecessor module the CPU-T11. The T12 module also has a trigger input and 2 Digital I/Os, and as a special feature the board can also run C code embedded into ADbasic code. The module also enables stand-alone operation without a PC using the Bootloader.

Flexible Access:
Users have the choice of either USB or a SATA storage device on the module: the SATA device can either be integrated into the module or removable. Access to the memory is provided via processor module or via NFS/SMB/FTP from the Ethernet network.

ADwin data acquisition systems feature tightly-coupled analog and digital inputs along with counters to provide users' applications with extremely low-latency operation. The ADwin-Pro II Series utilizes a modular form factor with plug-in modules to allow up to 480 analog or digital inputs in a single chassis, along with a high-performance 300 MHz DSP processor and Ethernet communications interface. Users also have a variety of other I/O options including CANbus, SSI, Profibus/Fieldbus, RS-232/485, and signal conditioner modules.

The extraordinary speed of the Pro-II system provides complex applications with a high data rate while the fast processor allows an intelligent pre-selection of relevant data, mathematical functions or digital channel filtering.

All the new Pro-II modules running on the Pro-II bus automatically sync, allowing fully-synchronized time measurements with multiple modules without any special effort from software. Additionally the new ADlog data logging software for ADwin systems opens new fields for intelligent datalogging applications when combined with the ADwin system's hardware capabilities.

Housing Types for all Cases
ADwin Pro-II systems are available in a variety of robust housing for various applications, including a desk system for the lab, a portable system for travel or as a system for panel mounting. ADwin's 5-16 slots and the number of different modules are the ideal, flexible foundation for rapid real-time applications.

For more information on ADwin Pro-II data acquisition systems, other models in the ADwin family, or to find the ideal solution for your application-specific needs, contact a CAS Data Logger Applications Specialist at (800) 956-4437 or visit the website at www.DataLoggerInc.com. Contact Information: CAS DataLoggers, Inc. 12628 Chillicothe Road Chesterland, Ohio 44026 (440) 729-2570 (800) 956-4437 sales@dataloggerinc.com www.dataloggerinc.com