Product News: Safety & Security Equipment
Cut Resistant Glove protects against oil/gas industry conditions.
Press Release Summary: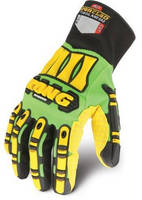 October 22, 2012 - Designed for hazardous conditions found on oil and gas platforms, KONG® Cut Resistant Glove is made from thin, light, and breathable CT-5™ material that provides resistance to cuts, abrasion, and punctures. Independent test results include 4 out of 4 for abrasion resistance (NF EN 388:2004 §6.1), 5 out of 5 for blade cut resistance (NF EN 388:2004 §6.2), 4 out of 4 for tear resistance (NF EN 388:2004 §6.3), and 3 out of 4 for puncture resistance (NF EN 388:2004 §6.4).
Ironclad Performance Wear - Farmers Branch, TX
Original Press Release
Ironclad Performance Wear Introduces the KONG® Cut Resistant Glove
Press release date: October 15, 2012
Unique CT-5 Cut Resistant Material Make This Glove the Most Innovative in the Oil and Gas Industry
LOS ANGELES -- Ironclad Performance Wear Corporation (ICPW), the recognized leader in high-performance task-specific performance work gloves, introduces the newest member to the KONG family -- the Cut Resistant KONG glove specifically designed for the hazardous conditions on an oil and gas platform.
The new KONG Cut Resistant glove is the fifth member of the KONG family.  It dovetails on the very successful adoption by the oil and gas industry of the KONG Original, KONG HPT Super Grip, KONG Dexterity and KONG Waterproof.
"Our KONG line of gloves, co-developed with the Oil and Gas Safety Committee, continues to evolve and meet the needs of industry.  With the introduction of the Cut Resistant glove, KONG reinforces its position as the gold standard in the oil and gas industry", said Fred Castro, Vice President of Sale Marketing for Ironclad. "Ironclad launched the KONG line of gloves in late-2008, and has since sold more than one million pair worldwide.  The new Cut Resistant KONG glove was developed using a new material that we refer to as CT-5(TM). It's thin, light, breathable, abrasion and puncture resistant, and, of course, cut resistant."
In independent test results, the KONG Cut Resistant glove performed at superior levels:
| | | |
| --- | --- | --- |
| Test | Standard | Results |
| Abrasion resistance | NF EN 388:2004 §6.1 | 4 out of 4 |
| Blade cut resistance | NF EN 388:2004 §6.2 | 5 out of 5 |
| Tear resistance | NF EN 388:2004 §6.3 | 4 out of 4 |
| Puncture resistance | NF EN 388:2004 §6.4 | 3 out of 4 |
The KONG Cut Resistant glove will debut to the public at three upcoming major trade shows:
--  2012 National Safety Council Expo, Orlando, FL, October 22 - 24, 2012
--  SEMA (Automotive) Show 2012 (Specialty Equipment Market Association), Las Vegas, NV, October 30 - November 2, 2012
--  STAFDA 2012 Annual Convention & Trade Show (Specialty Tools & Fasteners Distributors Association), Orlando, FL, November 4 - 6, 2012
About Ironclad Performance Wear Corporation
Ironclad Performance Wear is an aspirational brand leader in technical, task-specific, performance work gloves, having created the performance work glove category in 1998. The company continues to leverage its leadership position in the safety, construction and industrial markets through the design, development and distribution of specialized task-specific gloves for numerous industries, including oil & gas exploration, automotive and construction, as well as police, fire, first-responder and military. Ironclad engineers and manufactures its products with a focus on innovation, design, advanced material science and durability. Ironclad's gloves are available through industrial suppliers, hardware stores, home centers, lumber yards, auto parts stores and sporting goods retailers nationwide, and through authorized distributors in North America, Europe, Australia and Asia.
Built Tough for the Industrial Athlete(TM)
For more information on Ironclad, please visit
www.ironclad.com
.
Media Contact:
Shawn Norfolk, Director of Marketing
shawnn@ironclad.com
(310) 643-7800 x127