Custom Metal Formed Parts are made with 6-stage press technology.
Press Release Summary: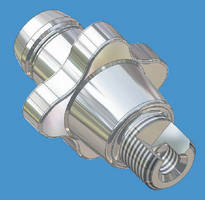 August 24, 2012 - With virtually no limit to potential uses or designs, Conform products consist of complex, multifunctional, precision parts produced by metal forming. After initial coordination with customer, company carries out series production check. Development process then moves to production of functional samples in near-series quality, which can be produced with same properties as mass production parts to be manufactured later on as formed parts.
ARNOLD UMFORMTECHNIK GmbH & Co. KG - D-74670 Forchtenberg-Ernsbach, DEU
Original Press Release
»Conform» Product Line
Press release date: August 23, 2012
»Conform» product line is made of multifunctional precision parts produced by metal forming instead of turning. This change in production method alone is sufficient to allow cost savings of up to 80% to be achieved.

In the past, the precision component product sector was almost exclusively the domain of the production machining industry. Most of these components were manufactured using costly lathe turning. A combination of rising raw material prices and general cost pressure throughout the industry generates a steadily growing demand for more innovative and cost-efficient production methods.

In response to this challenge, Arnold Umformtechnik has developed its Conform product line (Figure 1), consisting of complex precision components produced by metal forming instead of turning. This change in production method alone is sufficient to allow cost savings of up to 80% to be achieved, depending on the specific component and the production volume (Figure 2). The key factors in this enormous cost reduction include lower raw material consumption due the absence of cutting waste in the forming process and the distinctly higher unit throughput of multistage presses compared to conventional automatic lathes. In addition, there are virtually no limits to the potential uses or designs of Conform products. For example, the six-stage press technology used by Arnold can fabricate parts with external teeth or splines, roller-formed parts, hollow and semi-hollow parts, eccentric parts, and bearing bolts.

The need for the greatest possible versatility on the one hand and a cost-efficient manufacturing method on the other hand are addressed up front in the Conform component development process. After initial coordination with the customer, Arnold Umformtechnik carries out a »series production check» while the component is practically still on the drawing board. Here the necessary parameters for the cost-effective and optimised production of the customer´s parts can be determined without endangering functionality or quality aspects. The development process then moves to the production of functional samples in near-series quality, which can be produced with the same properties as the mass production parts to be manufactured later on as formed parts.

ARNOLD UMFORMTECHNIK GmbH & Co. KG Carl-Arnold-Strasse 25 D-74670 Forchtenberg-Ernsbach Germany PULT Michael Phone: +49 (0)160/98908602 Fax: +49 (0)7947/821-195 michael.pult@arnold-umformtechnik.de