Current Limiting Circuit Breakers ensure secure connections.
Press Release Summary: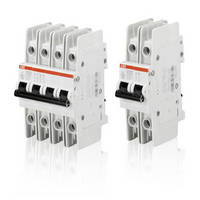 December 3, 2012 - Available in 1, 2, 3, and 4 pole configurations, S200PR Ring Tongue, Supplemental Protection miniature circuit breakers feature lug connections and captive screws that protect against inadvertent loosening. Units are rated for current from 0.2-63 A and conform to UL1077, CSA 22.2 No. 235, and IEC /EN 60947-2 standards. Included Contact Position Indicator shows actual contact position, allowing display of fault conditions such as welded closed contacts.
Original Press Release
Abb Lv Products Releases the S200PR Ring Tongue Family of High Performance, Current Limiting, Miniature Circuit Breakers
Press release date: November 19, 2012
Available in 1, 2, 3 and 4 pole configurations, featuring integrated captive screws that secure cable connections and provide extra protection
NEW BERLIN, Wisc. – The ABB Low Voltage Products division has introduced the new S200PR Ring Tongue family of high performance, current limiting miniature circuit breakers (MCBs) with ring tongue lug connections.  The SU200PR range conforms to UL 489, CSA 22.2 No. 5 and IEC/EN 60947-2 standards.  It is currently the only UL489 MCB on the market with rated current up to and including 35A for 480Y/277 VAC, and up to 63A for 240 VAC.  The S200PR range Supplemental Protection conforms to UL1077, CSA 22.2 No. 235 and IEC /EN 60947-2 standards.  Both ranges are available in 1, 2, 3 and 4 pole configurations, from 0.2A through 63A, and feature integrated captive screws that simplify the secure connection of cables, prevent installers from loosing the connection screws, provide extra protection and save time.
All markings on the new Ring Tongue MCBs are permanent laser markings, clearly visible from the front even when mounted in position on the DIN rail. These new miniature circuit breakers have a true Contact Position Indicator (CPI) that indicates the actual contact position, ensuring the display of fault conditions such as contacts that may be "welded" closed due to excessive fault. They also comply with the latest UL requirement for barriers of MCBs fitted with ring tongue terminals, and their structural material is a more flexible, recyclable Thermoplastic.
"Our goal in developing the new Ring Tongue breakers is to address specifically our semiconductor and transportation customer requirements," said Egon Hillermann, ABB's local product group manager for mission critical MCBs in the US. 
In addition to the semiconductor and transportation industries, the new Ring Tongue breakers are designed for wherever secure cable connections are essential in applications where vibrations, earthquakes and shocks are common environmental challenges.
This new Ring Tongue MCB family is a valuable addition to the well known System pro M compact range of miniature circuit breakers and current devices. A full range of accessories are also available to further enhance the family compatibility.
About ABB
ABB (
www.abb.com
) is a leader in power and automation technologies that enable utility and industry customers to improve performance while lowering environmental impact. The ABB Group of companies operates in around 100 countries and employs about 130,000 people.
About ABB Low Voltage Products
The ABB Low Voltage Products division (
www.abb.us/lowvoltage
) manufactures low-voltage circuit breakers, switches, control products, wiring accessories, enclosures and cable systems to protect people, installations and electronic equipment from electrical overload.
ABB, Inc.
Low Voltage Products
16250 W. Glendale Avenue
New Berlin, WI 53151
888-385-1221 
www.abb.us/lowvoltage
lvps.support@us.abb.com
Alex Miller
alex.x.miller@us.abb.com
262-236-3710