CSA Approved Oxygen Analyzer can be used in harsh environments.
Press Release Summary: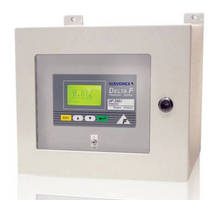 August 27, 2012 - With its CSA Class I Div II approval, Delta F DF-340E may be used where ignitable concentrations of flammable gases, vapors, or liquids are present within atmosphere under abnormal operating conditions. Non-depleting coulometric E-sensor technology allows O2 measurement at percent, trace, and ultra-trace levels, without any sensor drift, false low readings, or frequent calibration requirements. Product is protected within dustproof, waterproof, and explosion proof enclosure.
Original Press Release
CSA Approval Expand Applications Range for Delta F DF-340E Oxygen Analyser
Press release date: August 1, 2012
Crowborough, UK - The Delta F DF-340E oxygen analyser from Servomex has been approved for CSA Class I Div II, making it suitable for use where ignitable concentrations of flammable gases, vapours, or liquids are present within the atmosphere under abnormal operating conditions.
Using Servomex's unique, non-depleting coulometric E-sensor technology, the DF-340E enables O2 measurements at percent, trace and ultra-trace levels, delivering highly accurate results with no sensor drifting, false low readings or frequent calibration requirements. Optimised for reliable oxygen analysis in harsh environments, the DF-340E is protected within a dustproof, waterproof, explosion proof enclosure, while the sensor and flowmeter can be mounted in the analyser enclosure or remote installed in a NEMA 4 enclosure.
By delivering flexible range control, fast response time and a quick recovery from upset conditions, extensive background gas compatibility and flexible configuration options ensure the DF-340E is suitable for a wide range of applications. CSA Class I Div II approval not only validates the robust quality of the DF-340E design, but expands its use for range of applications that require safety certification: potential applications include use in pressure swing absorber nitrogen skids, HYCO plants, olefins purity, reactor process control, oil refining and numerous petrochemical applications.
With minimum maintenance requirements and a five year sensor guarantee, the DF-340E ensures high performance oxygen analysis and a low cost-of-ownership achieved through a long operational life and minimal downtime.
For more information about the Delta F DF-340E, email info@servomex.com or contact Servomex's Regional Business Centres in North America (+1 281 295 5800), Latin America (+55 115 188 8166), Europe/Africa (+31(0)79 330 1580) Middle East/India (+91(0)226 710 0360) and Asia Pacific (+86(0)216 489 7570).
About Delta F Limited Based in Woburn, Massachusetts, Delta F is a leader in oxygen and moisture analysis. Since 1969, Delta F has established the industry benchmark for analytical performance, implementing world class business practices in the manufacturing, testing, and support of oxygen and moisture analysis products. As a result of a track record of continuous improvement in oxygen and moisture analysis, companies that require reliable, cost-effective analyzers to measure critical applications keep returning to Delta F years after their first purchase.
Delta F is a division of Servomex Group Ltd, the leading provider of reliable, accurate and stable gas measurement solutions to industries across the globe. For more information about the Delta F DF-150E and Servomex's complete range of oxygen analysers, visit
www.servomex.com
. Servomex Group Ltd An acknowledged innovator in gas analysis technologies for more than 50 years, Servomex is the originator of and world leader in paramagnetic sensing technology and has an exceptional reputation in the development of zirconia, photometric and thick film technologies. The result is high-performance, cost-effective gas analysis, delivered through a portfolio of dependable products ranging from portable gas analysers to complex process solutions.
Servomex has extensive experience of working with multi-national companies across a range of industries including hydrocarbon processing, industrial gas and OEM markets, ensuring our knowledge and expertise closely matches the requirements of our customers. Servomex's commitment to providing a complete industry solution to gas analysis extends across our business, with our Hummingbird Sensing Technology brand delivering our sensor technology to OEM partners and the recently-acquired Delta F Corporation extending our product offering through high quality oxygen and moisture analysis technologies.
Servomex is committed to providing excellence in customer service, offering full sales and service support through global business centres based in Houston, Texas; Zoetermeer, Netherlands; Shanghai, China; São Paulo, Brazil; Dubai, UAE; and Mumbai, India. By combining global expertise with local support, Servomex delivers a complete package of product and service that ensures customers improve output quality, maintain plant and process safety and meet legislative requirements.
Servomex is part of Spectris plc, a leading supplier of instrumentation and controls to global markets.
For images and further information Contact: Chris Lawrenson at Coda Communications E-mail: chris@codacomms.co.uk / Tel: +44 (0)1202 669694/ Cell: +44 (0)7590 036435