Product News: Non-Industrial Products
Creeper rolls on grass, gravel, and rough pavement.
Press Release Summary: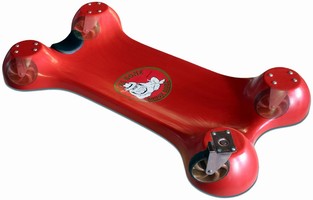 March 12, 2007 - Usable outdoors and off-pavement, Bone(TM) Rough Rider cradles up to one 400 lb user 2 5/8 in. above ground on one-piece body molded of engineering-grade copolymer that resists effects of common solvents. Each custom-molded, 5 3/8 in. dia wheel has heavy-gauge steel castor frame with 2½ in. roller swivel bearings, oil-impregnated bonze axle bearing, and molded-in-place 1 3/8 in. wide tire that will not sink in soft surfaces. Unit occupies 47 x 25½ in. footprint.
Original Press Release
Rough Rider(TM) Creeper Rolls on Grass, Gravel, Rough Pavement
Press release date: March 6, 2007
Kent, OH-They named this mechanic's creeper the Bone(TM) Rough Rider because it works great where no other creeper had gone before...outdoors and off the pavement! But happy mechanics, farmers, truckers, police officers, RV'ers, off-road, auto enthusiasts and aircraft owners who have been forced to get out and get under in less-than ideal situations just call it the "off-road creeper."
The secret of the Bone Rough Rider's unmatched mobility on rough terrain lies in the unique shape of the one-piece molded body, which allows large, specially designed 5-3/8" diameter wheels and cradles the user about 2-5/8" above the ground, just the right amount of ground clearance for typical outdoor work sites. The extra wide(1-3/8"), high flotation tires don't sink in soft surfaces and the large diameter wheels roll easily over gravel, dirt, or broken pavement-where ordinary creepers get stuck dead in their tracks. Each custom-molded wheel has a heavy-gauge steel castor frame with 2-1/2" roller swivel bearings for strength where it counts, an oil-impregnated bonze axle bearing, and a molded-in-place 1-3/8" wide tire. Of course like all Bone creeper wheels, they're warranted for the life of the creeper!
The ribbed body has all of the features and benefits of the original Bone(TM) creeper, and is molded of a state-of-the art engineering grade co-polymer to resist the effects of common solvents and cleaning is as easy as a casual wipe at the end of the job. The smooth, comfortable one-piece design has no cracks, corners or other pinch points, and the outboard wheel pods prevent tipping and flipping. The Bone(TM) Rough Rider is available now from major auto, industrial and truck tool & equipment dealers, as well as leading tool catalog outlets. The Rough Rider is also widely used by State Highway Patrol and Inspection units, as well as the US Military, who ordered over 2,000 units in 2006 alone!
Specifications: The Bone(TM) Rough Rider Length:................47" Width:.................25-1/2" Weight:................26 lbs. Ground Clearance:......2-5/8" Wheels:................5-3/8" dia. Tires..................1.3/8" wide Capacity...............400 lbs. Body:..................1-piece, molded co-polymer
Warranty Wheels:............Warranted for the life of the creeper Body:..............Warranted for 1-year from date of purchase
Manufacturer: Dale Adams Enterprises Jeremy Adams, VP Sales 315 Gougler Avenue Kent, OH 44240 Toll Free 800-266-3321 Tel: 330-677-4030 Fax: 330-677-4130 Email: sales@bonecreeper.com Web Site:
www.bonecreeper.com