Product News: Fluid & Gas Flow Equipment
CPVC-Brass Adapter Fittings suit light plumbing systems.
Press Release Summary: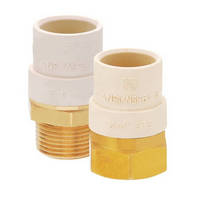 April 30, 2010 - Consisting of molded CPVC end piece with socket weld connection and forged brass tail piece with internal knurl and EPDM O-ring, CPVC Adapters available in ½ to 2 in. dia with both male and female threaded connections that conform to ASME B 1.20.1. Pressure is rated to 100 or 150 psi at 180° or 100ºF, respectively, and adapters are UPC and NSF-61 approved and meet material and dimensional requirements of ASTM D-2846.
Original Press Release
CPVC Adapters from Matco-Norca
Press release date: April 20, 2010
Brewster, NY,- Matco-Norca offers CPVC Brass Adapter Fittings for use in new and retrofit residential and light commercial plumbing systems. Matco CPVC Adapters consist of a molded CPVC end piece with socket weld connection and a forged brass tail piece with an internal knurl and EPDM O-ring. The adapters' durable, overmolded one-piece fitting eliminates a union tail-piece connection and possible leak path. Pressure rated to 100 PSI at 180º F or 150 PSI at 100º F, Matco's CPVC Adapters are UPC approved and NSF-61 approved, and are manufactured to the material and dimensional requirements of ASTM D-2846. CPVC Adapters are available in ½" to 2" diameters with both male and female threaded connections that conform to ASME B 1.20.1. About Matco-Norca Matco-Norca, headquartered in Brewster, NY, is a leading supplier of globally sourced, code compliant Plumbing and PVF products for use in residential, commercial and industrial applications. In business for over 50 years, Matco-Norca operates four national distribution centers and select regional warehouses. www.matco-norca.com