cPCI® PlusIO SBC offers dual redundancy for rail applications.
Press Release Summary: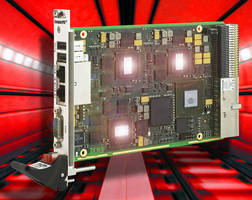 November 21, 2012 - SIL 4-ready F75P brings functional safety to board level using redundant Intel® Atom™ E680T processors. While 2 redundant 1.6 GHz CPUs with independent 512 MB DDR2 RAM and Flash memory increase system safety, third processor with 1 GB DDR2 controls I/O interfaces. Connection of 2 F75P SBCs, forming cluster, increases system availability. Along with event logger, features include front and rear I/O options that include VGA, Fast Ethernet, USB, PCIe, and SATA.
Original Press Release
SIL 4-Ready Safety on CompactPCI® PlusIO - Dual Redundancy for Rail Applications
Press release date: November 7, 2012
• 2x Intel® E680T, 1.6 GHz for dual redundancy
• 1x Intel® E680T, 1.6 GHz, 1 GB DDR2 as I/O processor
• Fail-safe and fail-silent architecture
• Event logging
• Certifiable up to SIL 4
• -40 C to +85°C operating temperature
• EN 50155 compliant

MEN Mikro Elektronik is a member of:
• AMD Fusion Partner Program
• ARINC (Aeronautical Radio Incorporated)
• BavAIRia (Cluster for innovative aerospace technology in Bavaria)
• CAN in Automation
• CNA (Center for Transportation Logistics Neuer Adler e.V.)
• Freescale™ Design Alliance
• Intel® Embedded Communications Alliance
• PCI-SIG (Peripheral Component Interconnect Special Interest Group)
• PICMG / PICMG Europe (PCI Industrial Computer Manufacturers Group)
• USB-IF (Universal Serial Bus Implementers Forum, Inc.)
• VITA (VMEbus International Trade Association)
• Wind River – Partner Eco System

If you have further questions, contact:
Angela Bieber, Marketing
Phone +49-911-99 33 5-242
Fax +49-911-99 33 5-901
E-mail: angela.bieber@men.de

Nuremberg, Germany. The new F75P CompactPCI PlusIO SBC was specially designed for rail applications and brings functional safety to the board level, using redundant Intel Atom processors. While two redundant CPUs with independent RAM and Flash memory increase system safety, a third processor controls the I/O interfaces.

One Board, Three CPUs – Multiplied Safety
The safe F75P single-board computer unites the benefits of a 1oo2 multiprocessing system and the ruggedness and flexibility of the CompactPCI PlusIO standard on one single card.

Two of the total three Intel Atom E680T processors with 1.6 GHz and 512 MB DDR2 RAM are set up to be redundant, forming the safe control unit of F75P. The third Intel Atom with 1 GB DDR2 controls I/O. It passes on the commands to the interfaces that were sent by the two control CPUs across an FPGA-based communication interface.

Two supervisor units monitor the environmental conditions specified for the two control CPUs and put the system into a safe state, for instance if the maximum operating temperature was exceeded. The output of a faulty processor is not passed through (fail-silent), or the complete system is shut down in case of an error and a train, for example, is stopped (fail-safe).

To increase the availability of a system, you can also connect two F75P SBCs to form a cluster. If one card fails, the second can take over from hot or cold stand-by, and operation can continue. An event logger allows tracing and simply reading out any hardware and application events.

Basically every F75P based system can be certified up to SIL 4 – a correspondent certificate by TÜV Süd is currently in preparation. It comes together with a complete certification package including the "safety case" document for the F75P, which makes the certification process of the final system much more easier.

The standard front I/O of F75P comprises one VGA interface, two Fast Ethernet and two USB, while its rear gives access to one PCI Express port, four USB, one SATA and two Fast Ethernet.

Characteristics typical of MEN such as the extended temperature range of -40 to +85°C, EN 50155 conformity, conformal coating and assembly of M12 connectors make the F75P a safe and at the same time robust solution – especially in rail applications where space is at a premium.

Price starting from EUR 2695 plus VAT for single units.

You can find this press release and photo under http://www.men.de/press.
For product information please go to http://www.men.de/02F075P.html.
Get news from MEN by RSS feed: http://www.men.de/rss

MEN Mikro Elektronik – Profile and Mission
Embedded Solutions - Rugged Computer Boards and Systems for Harsh, Mobile and Mission-Critical Environments
Since its foundation in 1982 our company has designed and manufactured failure-safe computer boards and systems for extreme environmental conditions in industrial and safety-critical embedded applications.

With over 250 employees and subsidiaries in France and the USA we have an annual revenue of more than 40 million Euros with an export share of about 40%. Customized solutions make for more than half of our revenue. Starting with the development phase, through the design-in and beyond we are at our customer's disposal with advice and support. In addition the standard product range includes far more than 100 different computer boards with x86 and PowerPC technology with the corresponding BIOS, BSP and driver software, manifold I/O boards and completely configured systems based on:
• CompactPCI, CompactPCI PlusIO, CompactPCI Serial and VMEbus SBCs
• Safe computer assemblies, certifiable according to DAL and SIL
• ESMexpress, ESMini and ESM Computer-On-Modules
• PMC, XMC and M-Modules as system-independent mezzanine I/O standards
• Box computers and display computers
• Network components, gateways and Ethernet switches

The consistent use of FPGA technology gives us high flexibility when configuring customized and standard products.

Our products are used worldwide as control, measuring, test or simulation computers in all kinds of embedded applications. These are extremely safety-critical mobile markets like railway, buses, agricultural machines, commercial vehicles, avionics and shipbuilding as well as other mission-critical applications in industrial automation and medical engineering. Computer systems in such applications are in operation up to 24 hours every day and often need to be available for 10 years and longer. Ideally no failures must occur to avoid costly downtimes of machines or danger to human life.

We are certified to EN 9100:2009 (aerospace), IRIS (railway), e1 (road traffic), ISO 9001:2008 (quality management) and ISO 14001:2005 (environmental management) in order to meet the severe quality requirements in critical applications and to offer our customers the highest quality in products and services while considering environmental protection and occupational safety on the basis of a recognized quality management system.

Our aim is to constantly improve and to provide the highest technology and innovation level. Our business ethics are determined by the principles of the United Nations' Global Compact Initiative (human rights, labour, environment and anti-corruption).