COTS DC-DC Power Sources deliver 600 W or 1,000 W.
Press Release Summary: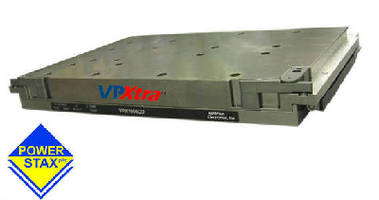 May 13, 2014 - OpenVPX and Vita 62 compliant, 600 W Behlman VPXtra™ 1000CM accepts 28 Vdc input and delivers outputs of 12 Vdc at 40 A, 5 Vdc at 24 A, 3.3 Vdc at 15 A, -12 Vdc at 2 A, and +12 Vdc at 1 A. Line and load regulation are 0.5% and 1.0%, respectively. Accepting 28 Vdc input, VPXtra™ 1000CD provides up to 1,000 W of regulated 12 Vdc output power and 3.3 Vdc auxiliary power. Both switch-mode power supplies feature card edge conduction cooling, operating temperature of -40 to +70°C, and efficiency >90%.
Original Press Release
Powerstax Offers New High Performance Conduction Cooled COTS Power Sources
Press release date: May 1, 2014
Delivering 600W or 1000W from 6U VPX-compatible units
Efficiency >90% (typical)
Multiple outputs
Card edge conduction cooling
-40°C to +70°C operational temperature range
Powerstax, specialist provider of highly optimized power sources, has just added 2 new switch-mode COTS DC-DC power supply units to its portfolio which are designed to cope with even the most demanding application environments. The Behlman VPXtra™ 1000CM is a rugged, highly reliable, OpenVPX and Vita 62 compliant unit that accepts a wide range 28VDC input. It is 600W DC rated across 5 outputs. These outputs offer 12VDC at 40A, 5VDC at 24A, 3.3VDC at 15A, -12VDC at 2A and +12VDC at 1A, with the unit's 12VDC output capable of being paralleled in order to attain higher power or for the purpose of including redundancy. The advanced Xtra-Cooling™ technology dissipates heat from the unit and maximises operational longevity. The VPXtra™ 1000CM has no minimum load requirement and boasts extremely effective over-voltage, over-current, short circuit and thermal protection features. Its input-to-output isolation covers up to 500VDC, while its line and load regulation are 0.5% and 1.0% respectively.
To complement this, Powerstax now also markets the VPXtra™ 1000CD - a dual output COTS DC-DC unit that has the same wide range 28VDC input as the VPXtra™ 1000CM along with an identical card edge conduction cooling mechanism, but delivers up to 1000W of clean, regulated 12VDC output power and 3.3VDC auxiliary power. Both these units are targeted at deployment in mission-critical airborne, shipboard, vehicle and mobile VPX power applications, as well as high-end industrial hardware. They are IAW MIL-STD-704 compliant.
About Powerstax:
Powerstax specialises in customised and configurable system-level power for demanding environments. Products include AC-DC power supply units, DC-DC converters and 19" rack mount power solutions. It also offers highly compact and ruggedized package solutions for applications that are space-critical or situated in harsh environments. The company's patented power technology has been deployed in military vehicles, defence, avionics, high-end industrial, oil & gas, medical, railway and commercial power systems across the globe. Through the acquisition of the Drake brand of transformer rectifiers, Powerstax is able to provide robust power up to 1MW to water treatment & purification, corrosion prevention and metal finishing applications.
For more information contact:
Powerstax North America,
12804 W. Santa Ynez Drive
Sun City West, Arizona 85375, USA
Tel: +1 623-451-8298
Fax: +1 623-594-5065
Email:
pnasales@powerstaxplc.com
Website:
www.powerstaxplc.com