Product News: Electrical Equipment & Systems
Copper Busbars offer theft-deterring engravings, coatings.
Press Release Summary: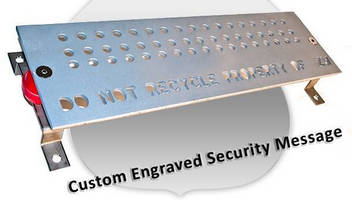 August 30, 2011 - Designed to be less attractive to thieves, TerraBar® busbars are available with custom-engraved messages such as "PROPERTY OF..." and "DO NOT RECYCLE." Products can also be plated with materials that disguise copper makeup while still providing optimal conductivity. Full line of available hole patterns and sizes with all associated mounting hardware and insulators is available, and busbars can be delivered with ground leads already exothermically welded to them as needed.
Original Press Release
Theft Deterrent Busbars with Thru Engraving
Press release date: August 24, 2011
Alltec Corporation introduces a new series of TerraBar® busbars specifically designed to be less attractive to thieves. As anyone who works with components made of copper knows, prices have sky rocketed. This has made copper very appealing to people who steal. Across the country, the news has been full of stories about construction sites, telco companies, and even residential homes being stripped of copper wiring and materials. The thieves take this copper to recycling centers and get a pretty penny in return. By engraving custom messages into the bar like, "DO NOT RECYCLE" and "PROPERTY OF...," thieves will have a much harder time selling to reputable scrap dealers. The difficult process of destroying this branding may weigh in as a deciding factor for a criminal to leave them alone. Another barrier to "theft desirability" is plating. TerraBar® busbars can be plated with materials that disguise their copper makeup while still providing superior conductivity. Alltec Corporation manufactures TerraBar® brand copper busbars in a full line of available hole patterns and sizes with all the associated mounting hardware and insulators. Alltec has a full inventory of raw materials in various sizes providing the capability of fast turnaround time for any custom busbar configuration. TerraBar® busbars have the option of using tin or nickel plating or in cold rolled galvanized sheets (CRS). Alltec can deliver the busbars with the ground leads already exothermically welded to them as needed. Alltec Corporation's engineering and design department in conjunction with its manufacturing facility is available to assist in custom designed grounding products to fit any application. Busbars can be made in standard sizes or accommodate almost any width or length. The cost of copper is very high. Replacing busbars due to theft is more than just a minor inconvenience. Take the next step in protecting your facility. Alltec's TerraBar® busbars are a solid solution to keeping criminals away from your costly equipment. Alltec Corporation is the global leader in the design, manufacture, and installation of lightning protection, grounding, and surge suppression solutions. Founded in 1991, they have focused on innovating new technology, improving product quality, and enhancing customer service. As Solution Providers for an Energized World(TM), they offer a comprehensive facility protection approach to solving the world's most difficult lightning, grounding, and power quality problems. World Headquarters: United States of America 64 Catalyst Drive Canton, North Carolina 28716 USA Phone: +1 828-646-9290 Toll Free: +1 800-203-2658 (U.S. & Canada) Fax: +1 828-646-9527 allteccorp.com pr@allteccorp.com LINK
allteccorp.com/resources/news/index.php?id=78&utm_source=press%2Brelease&utm_medium=TN&utm_content=terrabarthru&utm_campaign=terrabarthru