Product News: Safety & Security Equipment
Control Panel controls release of extinguishing agents.
Press Release Summary: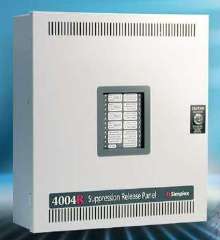 July 17, 2003 - Simplex® 4004R Suppression Releasing Panel suppresses fires in computer rooms, petrochemical and power plants, and high-risk locations. Product controls release of extinguishing systems such as Inergen®, FM-200, preaction, water spray deluge, and carbon dioxide. Capable of handling one or two hazard areas, product also provides emergency notification using horns or strobes. Panel can capture detailed history of all trouble, alarm, and releasing events.
Tyco SimplexGrinnell LP - Westminster, MA
Original Press Release
Introduction of Simplex® Fire Suppression Releasing Control Panel Advances SimplexGrinnell's Ability to Protect Hazardous Environments
Press release date: July 9, 2003
New Panel Controls Release of Extinguishing Agents to Suppress Fires in Computer Rooms, Petrochemical Plants and Other High-risk Locations
WESTMINSTER, Massachusetts (July 9, 2003) - SimplexGrinnell, North America's leading integrated fire and life-safety systems provider, and a business unit of Tyco Fire & Security, has strengthened its Special Hazards fire protection capabilities with the introduction of a new releasing control panel specifically designed for suppressing fires in computer rooms, petrochemical facilities, power plants and other high-risk environments.
The new Simplex® 4004R Suppression Releasing Panel from SimplexGrinnell controls the release of extinguishing systems, such as Inergen®, FM-200, preaction, water spray deluge and carbon dioxide, in areas where the risk of a fast-spreading fire is high, where interruption to business operations would be catastrophic, or where the cost of replacing lost equipment would be extraordinary.
In addition to the introduction of the Simplex 4004R releasing panel, recent enhancements have also been made to two other Simplex fire alarm panels - the Simplex 4010 panel for small- to mid-sized applications and the high-end Simplex 4100U system - to expand their capability for Special Hazards protection. These panels now provide dual command control - an advancement in releasing technology that virtually eliminates unwanted system activations caused by noise or transient electrical signals.
The availability of the Simplex 4004R panel, along with the 4010 and 4100U panel enhancements, extends SimplexGrinnell's portfolio of products for Special Hazards - a highly specialized segment of the fire industry that requires a combination of mechanical and electronic protection systems. A leader in this arena, SimplexGrinnell's Special Hazards systems protect high-risk, high-value operations where conventional fire protection is not enough.
Vertical Market Applications
The Simplex 4004R panel is ideally suited to provide Special Hazards solutions in the following locations: computer rooms, Internet server sites, corporate data centers and telecommunications switching rooms; automotive manufacturing operations and paint spray booths; semiconductor clean room manufacturing sites; petrochemical processing plants, terminals and storage areas; nuclear and electrical power generation plants; aircraft hangars and heliports; and cultural facilities.
"Special Hazards fires expand much more rapidly than conventional fires, and have huge destructive power," says Kevin McGovern, National Marketing Manager for Special Hazards Fire Protection at SimplexGrinnell. "To prevent the complete shutdown of an operation, Special Hazards protection must incorporate fast detection and nearly instantaneous discharge technologies. Where conventional suppression and sprinkler systems only control a fire, Special Hazards systems are designed to fully extinguish the source while blocking the flame front. This new Simplex 4004R suppression releasing panel enhances our ability to provide the best and most effective solutions for our customers, especially considering the depth of Special Hazards knowledge and expertise in the SimplexGrinnell organization."
The Function of the 4004R Panel
The Simplex 4004R panel, which can handle one or two hazard areas, detects a fire through information received from a smoke or heat detector or from the manual activation of a pull station. The panel controls the release of extinguishing agents or water to suppress the fire, and also provides emergency notification, using horns or strobes, so that the area can be evacuated. The Simplex 4004R panel's ability to capture a detailed history of all trouble, alarm and releasing events assists owners and insurers in post-event investigations. Easy to install, the Simplex 4004R conventional panel is CE compliant, FM approved, and UL-, ULC-, and CSFM- (California State Fire Marshal) listed for automatic extinguishing as well as deluge and preaction sprinkler control.
About SimplexGrinnell
SimplexGrinnell LP, a business unit of Tyco Fire and Security, is a leading provider of fire detection and alarm, fire sprinkler, fire suppression, and integrated security systems and services. SimplexGrinnell delivers single-source solutions using its comprehensive portfolio of high-quality products and services. The Simplex® and Grinnell® product lines being sold, delivered and serviced by SimplexGrinnell include: fire detection and alarm systems; fire sprinkler systems; fire extinguishers and pumps; restaurant fire suppression systems; special hazards fire protection systems; integrated security systems; healthcare communications systems; integrated sound, intercom and telephone systems; and emergency lighting. SimplexGrinnell serves its customers through a network of company-owned district offices that covers all of North America. The SimplexGrinnell district offices also provide 24/7 emergency services. For additional information or to locate the nearest SimplexGrinnell district office, visit
www.simplexgrinnell.com
About Tyco Fire and Security
Tyco Fire & Security, one of the major business units of Tyco International Ltd., designs, manufactures, installs and services electronic security systems and fire protection, detection and suppression systems. With $10 billion in annual sales and more than 100,000 employees, Tyco Fire & Security includes more than 60 brands which are represented in over 100 countries. Its products are used to safeguard firefighters, prevent and fight fires, deter thieves and protect people and property.
Tyco, Simplex, Inergen and Grinnell are trademarks of Tyco International Services AG or its affiliates.
CONTACT: Chris Woodcock
Director, Marketing Communications
SimplexGrinnell
(978) 731-7052
chwoodcock@tycoint.com
Deb Coller
Tyco Fire & Security
Tel: 561-988-7035
dcoller@tycoint.com