Continuous-Duty Analyzer controls trace hydrocarbons in CO2.
Press Release Summary: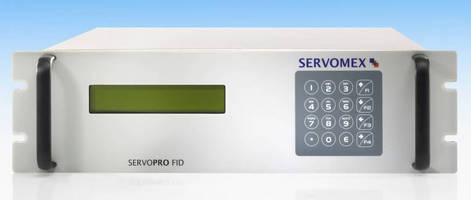 July 16, 2012 - Enabling continuous on-line quality control of CO2, SERVOPRO FID maximizes operational efficiency of hydrocarbon removal systems used in CO2 recovery. System utilizes Flame Ionization Detector technology and offers CO2 measurement and clean operation with 100 ppb resolution. Remote connectivity - Ethernet, Internet, 4-20 mA output monitoring - capabilities are supplemented by electronically regulated and temperature regulated flow as well as Lock Range and automatic ranging functions.
Original Press Release
Servomex SERVOPRO FID Now Suitable for Controlling Trace Hydrocarbons in Carbon Dioxide
Press release date: July 9, 2012
Crowborough, UK - Now optimised to control the level of trace hydrocarbons in carbon dioxide (CO2), the Servomex SERVOPRO FID maximises the operation efficiency of hydrocarbons removal systems used in CO2 recovery and enables continuous on-line quality control of CO2.
With growing demand for CO2 in a range of applications, a variety of industrial producers - including industrial gas manufacturers, methanol factories, breweries and ethylene oxide plants - are able to recover the CO2 by-product from their processes. The complexity of the CO2 purification process depends on the type of contaminant removal systems used at the raw gas source, this means the quality control system for production output can be highly demanding, while on-line quantification of the trace hydrocarbon level on the final product is essential.
Offering superb sensing capability and comprehensive remote connectivity, the Servomex SERVOPRO FID is the ideal analyser for CO2 recovery operators who need accurate trace hydrocarbon measurement from a single versatile, easy-to-operate unit. Utilising high-performance, low-noise Flame Ionization Detector technology, the SERVOPRO FID offers accurate CO2 measurement and clean operation with a guaranteed 100ppb resolution.
The FID offers full ethernet and internet connectivity that greatly increases remote communication options via a network or an internet browser, as well as monitoring options via a standard 4-20 mA output. With all flow electronically regulated and temperature regulated, the system offers a "Lock Range" facility to allow the operator to fix the unit within a desired range, as well as an automatic ranging feature that changes the measurement parameters according to the impurities it detects. Ease of use is facilitated by a simple and intuitive user interface, enabling users to view values including real time measurements and system status.
With the accuracy, stability and reliability of the FID measurement optimised by a wide dynamic range, fast response time and flexibility of operation, the SERVOPRO FID is the ideal solution for a trace measurement of CO2 on storage tanks, pipelines or individual cylinders.
For further enquires about the SERVOPRO FID contact the Servomex sales team at the European Business Centre (+31 (0) 79 330 1581 / 00800 737866390) Toll free in France, Holland, Germany, Belgium and the UK) Americas Business Center (+1 281 295 5800) or Asia Pacific Business Centre (+86 (0)21 6489 7570). For more information visit
www.servomex.com
Servomex Group Ltd As the world expert in gas analysis, Servomex has established itself as the leading provider of reliable, accurate and stable gas measurement solutions to industries across the globe.
An acknowledged innovator in gas analysis technologies for more than 50 years, Servomex is the originator of and world leader in paramagnetic sensing technology and has an exceptional reputation in the development of zirconia, photometric and thick film technologies. The result is high-performance, cost-effective gas analysis, delivered through a portfolio of dependable products ranging from portable gas analysers to complex process solutions.
Servomex has extensive experience of working with multi-national companies across a range of industries including hydrocarbon processing, industrial gas and OEM markets, ensuring our knowledge and expertise closely matches the requirements of our customers. Servomex is committed to providing excellence in customer service, offering full sales and service support through global business centres based in Houston, Texas; Zoetermeer, Netherlands; and Shanghai, China. By combining global expertise with local support, Servomex delivers a complete package of product and service that ensures customers improve output quality, maintain plant and process safety and meet legislative requirements.
Servomex is part of Spectris plc, a leading supplier of instrumentation and controls to global markets.
For further information Contact: Chris Lawrenson at Coda Communications E-mail: chris@codacomms.co.uk / Tel: +44 (0)1202 669694/ Cell: +44 (0)7590 036435