Constant Voltage LED Drivers offer 0-100% Triac dimmable control.
Press Release Summary: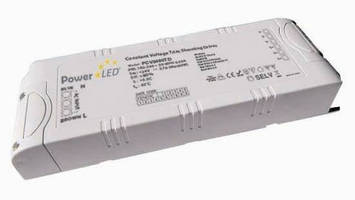 May 13, 2014 - Compatible with leading- and trailing-edge dimmers, 6 mains-dimmable LED drivers of PCV series offer power ratings from 20–90 W. All models have both 12 and 24 V output versions as well as screw terminals that facilitate connection. Fully isolated within fire resistant plastic cover rated to IP44, drivers integrate over current, short circuit, and overvoltage protection as well as auto-recovery capability. Operational efficiency is >80% efficiency, and power factor is over 0.95.
Original Press Release
New Range of Constant Voltage LED Drivers is Triac Dimmable
Press release date: May 1, 2014
Aldermaston – Sunpower announces its new PCV range of LED drivers which offer constant voltage operation with 0 – 100% Triac dimmable control (dimmer dependent). These mains dimmable drivers are compatible with both leading-edge and trailing-edge dimmers. The range currently has six models, with power ratings from 20 W to 90 W. All models have both 12 V and 24 V output versions. The PCV products are the latest additions to Sunpower's extensive family of constant voltage drivers, ranging from 3 W to 400 W output.
The PCV drivers are suitable for demanding indoor applications within commercial, retail, industrial and domestic environments. Each unit is fully isolated within a fire resistant plastic cover rated to IP44 for ingress protection. Over current, short circuit and overvoltage protection is built in, with capability for auto-recovery from all conditions. All drivers comply with safety standards EN 60598, EN 61547, ENV 5024, EN 61000-4-2,3,4,6,8,11, EN 61000-3-3 and EN 61000-3-2. They also meet EMI emission standards to EN 55022 and EN 55015 Class B.
The PCV LED drivers operate at greater than 80% efficiency, with a power factor of over 0.95. The operating temperature range is -30 to +45°C, with a lifetime of 50,000 hours at TC max. Installation is easy, with screw terminals provided for simple connection. The range is ideal for retrofit installations, as no extra wiring is required. Only conventional cabling is necessary, with no need for signal wires or loop-in circuits. Sunpower's confidence in the products is underwritten with a two-year warranty being offered on all units.
The PCV LED driver range is particularly well suited to LED tape and strip lighting, decorative LED lighting and LED shelf and ambient lighting. "The new PCV family eases design and installation of both new and retrofit applications" commented Andy Wall, CEO at Sunpower Technology LLP. "Additionally, it will deliver a better experience for the lighting systems' users – fluctuations and disturbances in the supply current will not affect the LED output, so a predictable and reliable light intensity is maintained at all times."
Visit the Sunpower UK website for more information: 
http://led-lighting-power-supplies.com
About Sunpower
Sunpower Technology LLP is the UK arm of a Taiwanese manufacturer that also enjoys extremely strong bonds with other, highly skilled factories and engineers in Taiwan and China. The company delivers a wide range of standard, custom and bespoke power supplies to businesses and organisations across the UK.
Sunpower Technology LLP's overall range of industrial and commercial power products include DIN rail power supplies, led drivers, industrial power supplies, industrial battery chargers, marine power supplies, ac adapters and plugtops, and sine wave inverters. They are used in rugged, data storage, medical grade, laboratory, EPOS and many other applications. Sunpower's engineers are highly experienced in producing custom design power supplies and their value added service is focused on giving customers 'ready to go' products that resolve all their power supply needs.
Sunpower Technology LLP Ltd's Quality Management System is BS-EN-ISO 9001:2008 certified; its factories are also approved to both ISO-9001 and ISO-14001. The company has been ISO certified since August 1997.
Sales and Technical contact:
Andy Wall
Sunpower Technology LLP
Orion House
Calleva Business Park
Aldermaston
Berkshire RG7 8SN
Tel:         +44(0)845 533 0438
Email:   
enquiries@sunpower-uk.com
URLs:    
www.sunpower-uk.com
www.meanwelldirect.co.uk
PR Contact:
Nigel Charig
Charig Associates Ltd,
24 Honister Gardens
Stanmore,
Middlesex HA7 2EH
Tel: +44 (0)208 933 0917
Email:
info@charig-associates.co.uk
URL:
www.charig-associates.co.uk