Product News: Controls & Controllers
Constant Current Regulators suit solid state lighting systems.
Press Release Summary: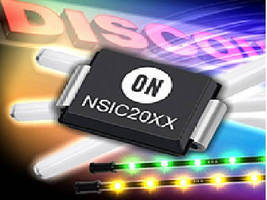 December 7, 2012 - Based on self-biased transistor technology, NSIC20xx Series offers max voltage rating of 120 V, 3 W and can withstand peak voltages of AC off-line HBLED lighting applications. Models NSIC2020BT3G, NSIC2030BT3G, and NSIC2050BT3G have steady state current capability of 20, 30, and 50 mA, respectively. Devices turn on immediately and reach 45% regulation with anode-cathode voltage of 0.5 V applied. Offered in 2.20 x 3.56 x 4.32 mm package, regulators support junction temperature of -55 to +175°C.
Original Press Release
ON Semiconductor Expands Constant Current Regulator Offering for Solid State Lighting Systems
Press release date: December 3, 2012
Fully integrated, feature-packed devices offer easy-to-use, high reliability, cost-effective alternative to discrete component approach in demanding AC off-line lighting applications

PHOENIX, Ariz. –  ON Semiconductor (Nasdaq: ONNN), a premier supplier of high performance silicon solutions for energy efficient electronics, has introduced the new NSIC20xx series of linear Constant Current Regulators (CCR) designed for use in solid state lighting systems.

The new NSIC20XX series of CCRs offer a maximum voltage rating of 120 Volts (V), 3 Watts (W) and are capable of withstanding the high peak voltages of alternating current (AC) off-line HBLED lighting applications, including digital signage systems, lighting panels and decorative illumination.  These new CCRs protect against the sudden surges that are commonplace in such lighting applications. Based on self-biased transistor (SBT) technology, the NSIC20XX series of devices are capable of current regulation over a very wide voltage range; while their negative temperature coefficient helps to protect the LEDs from thermal runaway at extreme voltage and current levels.

"As the demand for solid state lighting continues to grow, design engineers must be confident that the LEDs utilized are not in danger of being damaged by extreme temperatures or excessive current and that the long-term operation of the lighting system is assured," said Dan Huettl, general manager and senior director of ON Semiconductor's Small Signal products. "Featuring voltage surge suppression and negative temperature coefficient, the higher breakdown voltage capable, NSIC20XX series of CCRs provide the protection mechanisms needed to support the most demanding lighting application environments."

The NSIC20XX series of CCRs provide a far simpler, more reliable and more cost-effective option of regulating the current of LEDs than conventional circuit design methodologies that rely on discrete and passive components. Because these devices do not require the specification of any external components, they can serve as either high or low side regulators, thus offering a streamlined solution that makes the development process more straight forward and maximizes design flexibility.

The NSIC2020BT3G, NSIC2030BT3G, NSIC2050BT3G have steady state current (IRegSS) capability of 20 milliamperes (mA), 30 mA and 50 mA, respectively. The devices turn on immediately and reach 45 percent regulation with an anode-cathode voltage (Vak) of just 0.5 volts (V) applied. The devices are designed to be thermally robust, supporting a junction temperature range of -55 °C to +175 °C and are UL94-V0 certified.

Packaging and Pricing
The NSIC2020BT3G, NSIC2030BT3G and NSIC2050BT3G are offered in a compact 2.20 mm x 3.56 mm x 4.32 mm, RoHS-compliant, SMB package and priced at $0.14 per unit in 10,000 unit quantities.

About ON Semiconductor
ON Semiconductor (Nasdaq: ONNN) is a premier supplier of high performance silicon solutions for energy efficient electronics. The company's broad portfolio of power and signal management, logic, discrete and custom devices helps customers efficiently solve their design challenges in automotive, communications, computing, consumer, industrial, LED lighting, medical, military/aerospace and power applications. ON Semiconductor operates a world-class, value-added supply chain and a network of manufacturing facilities, sales offices and design centers in key markets throughout North America, Europe, and the Asia Pacific regions. For more information, visit http://www.onsemi.com.

ON Semiconductor and the ON Semiconductor logo are registered trademarks of Semiconductor Components Industries, LLC. All other brand and product names appearing in this document are registered trademarks or trademarks of their respective holders. Although the company references its Web site in this news release, such information on the Web site is not to be incorporated herein.

Contacts
Sarah Rockey
Media Relations 
ON Semiconductor
(602) 244-5910
sarah.rockey@onsemi.com