Product News: Electronic Components & Devices
Connectors serve security, surveillance applications.
Press Release Summary: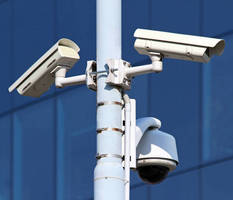 January 8, 2013 - For connection of radio antennas and video cameras, PoE-enabled HARTING PushPull connectors in variant 4 handle power supply and data transmission up to 10 Gbps. Each Han-Modular® connector, used in termination and distribution boxes, allows power, signals, and data to be transmitted in single connector. For camera termination and collection/distribution of image data, Ha-VIS eCon 2050-WI allows connection of up to 5 RJ45 cameras transmitting up to 1 Gbps each.
Original Press Release
HARTING is Also the Right Choice for Security and Surveillance Technology
Press release date: January 4, 2013
The HARTING Technology Group is also applying its decades of know-how in wind energy, railroad technology and automation efficiently in security and surveillance technology. The demand for superior quality and the longevity of the products themselves under adverse conditions predestine the HARTING solutions for this application area.

The HARTING PushPull connectors in variant 4 are employed for the simple and reliable connection of radio antennas and video cameras. Thanks to Power-over-Ethernet, one termination here can handle both the power supply and data transmission. Even data rates up to 10 Gbit/s and fiber-optic termination variants are possible. Larger connectors from the Han-Modular® product family are in use today in termination and distribution boxes in cities all over the world. For example, it is possible to install a number of surveillance cameras on one mast. The distribution box handles both the power supply to the cameras and the collection of the image data. The Han-Modular® product family supports precisely these requirements thanks to its broad selection of modular inserts. Power, signals and data can be transmitted in a single connector, ensuring simple, speedy and reliable installation. Switches from the Ha-VIS eCon series are likewise excellent choices for the camera termination and the collection and distribution of the image data. The eCon 2050-WI supports jumbo frame functionality by allowing the connection of up to five RJ45 cameras, each transmitting up to 1Gbit/s. While the products mentioned here represent just an excerpt of the HARTING product range, they serve to demonstrate that HARTING is the right source for products for the active and passive infrastructures in security and surveillance technology.

Contact:
HARTING Deutschland GmbH & Co. KG
Simeonscarré 1
32427 Minden
Germany
Tel.: +49 (0)571 8896-0
Fax: +49 (0)571 8896-990604
e-mail: de@HARTING.com
Additional information on the Internet: www.HARTING-Deutschland.de