Product News: Optics & Photonics
Comparison Microscope is suited for forensic examiners.
Press Release Summary: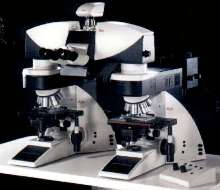 July 25, 2003 - Leica FS4000 Forensic Solution Microscope enables trace evidence comparisons in forensic science laboratories. Comparison bridge integrates tilting binocular tube that promotes ease of reach with natural body position. Automation and motorization of comparison bridge allow one-button activation of comparison methods and movement of image splitting line. Product features two DM4000 B digital microscopes, automatic light management, and integrated Variolux color module.
Leica Microsystems - Buffalo Grove, IL
Original Press Release
Leica Microsystems Inc. Introduces New FS4000 Forensic Comparison Microscope
Press release date: July 23, 2003
July, 2003 Contact: Molly Lundberg, Director, Communications Phone (847) 405-7026, Fax (847) 405-0164 Leica Microsystems is pleased to provide a new level of accuracy, comfort and convenience for forensic examiners with the introduction of the new Leica FS4000 Forensic Solution Microscope. The Leica FS4000 microscope for trace evidence comparisons in forensic science laboratories combines the latest opto-mechanical developments in light microscopy with unsurpassed ease of use and human engineering. The FS4000 features an entirely new comparison bridge design, which integrates a tilting binocular tube to accommodate examiners of all statures and to facilitate easy reach with a natural body position. Automation and motorization of the comparison bridge allow one button activation of comparison methods and movement of the image splitting line. The central control unit, which operates the comparison bridge, is a separate control box that can be freely positioned anywhere on the work surface. The new Leica FS4000 makes it easy to achieve superior, reproducible images. The system features two Leica DM4000 B digital microscopes, with fully automatic light management and an integrated Leica Variolux color module, which allows continuous color temperature adjustment on both microscope stands. Side-by-side or superimposed image comparisons are done easily; at the touch of a button the microscopes switch between brightfield, phase contrast, darkfield or fluorescence imaging. For each contrast method, the correct optical components swing into the light path and the aperture and field diaphragm are optimally adjusted. The system provides highly precise comparison of two objects at magnifications up to 1500x and clearly images the slightest differences in microstructure, texture or color. For more information, contact: Leica Microsystems Inc. 2345 Waukegan Road Bannockburn IL60015 Toll Free (800) 248-0123 Telephone (847) 405-0123 Fax (847) 405-0164 news@leica-microsystems.com
www.leica-microsystems.com