Product News: Computer Hardware & Peripherals
CompactFlash Card targets professional photography demands.
Press Release Summary: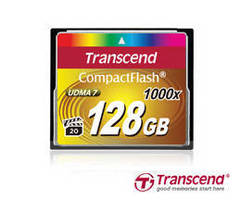 November 19, 2012 - Compliant with CompactFlash revision 6.0, Ultimate series 1000x CompactFlash cards operate in Ultra DMA (UDMA) transfer mode 7 and support transfer rates to 160 MB/s read and 120 MB/s write for optimal compatibility with digital camera equipment. Video Performance Guarantee (VPG-20) enables video capture at sustained write speeds of at least 20 MB/sec, without dropping frames. Available in capacities up to 128 GB, cards contain BCH ECC (Error Correction Code) technology with read-retry.
Original Press Release
Transcend's New 1000x CompactFlash Card Exceeds the Demands of Professional Photography
Press release date: November 5, 2012
Transcend Information, Inc. (Transcend ), a worldwide leader in storage and multimedia products, today announced the arrival of 1000x CompactFlash cards as part of its expanding flash card product line. Aimed at professional photographers, the new 1000x CF cards feature high-speed transfer rates up to 160MB/s read and 120MB/s write, ensuring maximum performance when used with today's cutting-edge digital camera equipment.

Fully compliant with CompactFlash revision 6.0, Transcend's "Ultimate" series 1000x CompactFlash cards operate in Ultra DMA (UDMA) transfer mode 7, the fastest interface speed available for CF cards. As a result, a top-end DSLR camera equipped with a 1000x CF card responds more quickly – especially important during fast-action burst mode shooting – and stores large images in RAW format faster than ever before. When back at the studio, 1000x CF cards help increase post-production efficiency with incredible read speeds of up to 160MB/s, which allows transferring images from card to computer in a matter of seconds.

To satisfy the needs of serious videographers, Transcend's 1000x CompactFlash cards implement the Video Performance Guarantee (VPG-20), which enables professional-quality video capture at sustained write speeds of at least 20MB/s without dropping frames. Available in up to 128GB capacity, these cards are the ultimate class-leading storage for ultra-high resolution Full-HD, 3D, and even 4K UHDTV (2160p) video recording.

To assure robust, long-life durability and guaranteed performance, Transcend's 1000x CF cards are manufactured using premium quality toggle mode NAND Flash memory chips. In addition, each card contains built-in BCH ECC (Error Correction Code) technology with read-retry for detecting and correcting errors during data transfer. Backed by Transcend's renowned Limited Lifetime Warranty, Transcend's 1000x CompactFlash cards are now available in 16GB (US$109.99), 32GB (US$229.99), 64GB (US$459.99) and 128GB (US$749.99) capacities.

Transcend is a globally recognized leader in the manufacture of storage and multimedia products. Established in 1988, Transcend offers a full line of standard and proprietary memory modules, flash memory cards, USB flash drives, portable hard drives, solid-state drives, digital music players, card readers and multimedia products. Transcend has manufacturing facilities in Taiwan and China, and has offices in the United States, the United Kingdom, Germany, The Netherlands, Japan, Korea, Taiwan, China and Hong Kong. For more information, please visit www.transcend-info.com

For further queries, please contact:
Manali Misra
Account Executive
Alliance Public Relations Pvt. Ltd.
Mob: 08802662072