Product News: Controls & Controllers
Compact Servo Motor integrates single-axis motion controller.
Press Release Summary: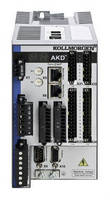 October 19, 2012 - Via integrated motion controller, AKD® BASIC Ethernet-based servo drives offer camming, s-curve, and free-form motion profile capabilities. These, combined with BASIC programming language and built-in Program Editor with debugging tools, help machine builders execute complex processes. Built-in machine control lets design engineers eliminate some small to medium PLCs from machine, reducing associated wiring, components, and panel space.
Original Press Release
Build a More Compact and Cost-Effective Machine, Faster, with AKD(TM) BASIC Servo Drives from Kollmorgen
Press release date: October 12, 2012
AKD® BASIC incorporates fully programmable single axis machine and motion control, enabling engineers to quickly customize machine performance at the drive level
RADFORD, VA – Kollmorgen introduces AKD™ BASIC servo drives.  These Ethernet-based drives feature an integrated single axis motion controller, enabling OEMs to build a more compact and cost-effective machine than is possible with a separate drive and PLC configuration.  The camming, s-curve and free-form motion profile capabilities delivered by the integrated motion controller, combined with the simplicity of BASIC programming language and a built-in Program Editor with debugging tools, enables machine builders to easily execute complex processes, faster.
"AKD BASIC delivers the high-performance that machine builders have come to expect from the AKD servo drive family, with an integrated and easy-to-use single axis motion controller that effectively replaces two devices with one." says Reid Hunt, Product Manager, Kollmorgen.  "The AKD BASIC servo drive puts the power into the OEM's hands enabling them to further differentiate their machine performance to satisfy the unique demands of their customers without the time and cost associated with vendor customized motion components."
Having machine control built right into the drive enables design engineers to eliminate some small to medium PLCs from the machine.  This reduces the amount of wiring, number of components and dedicated panel space, enabling OEMs to reduce the cost and size of their machines.  AKD BASIC also works well in machines that still require a PLC with multiple interfaces, including digital I/O and Ethernet communications.
The integrated high-performance motion controller can also help users run more complex processes and increase machine throughput in single axis applications.  The fast interrupt routines and conditional "when" statements ensure fast program execution, which is key for coupling motion and machine control.  These routines and "when" statements are scanned every 250 microseconds. Users will also be up and running faster because the easy-to-learn BASIC programming language simplifies program flow control to significantly reduce the time needed to complete project code.  Additionally, a Source Code lockout feature helps AKD BASIC users protect their machine designs and IP; functionality that further helps machine builders achieve and maintain a competitive advantage.
With AKD BASIC, OEMs can leverage Kollmorgen's engineering capabilities to achieve customized product variants that deliver differentiated machine performance faster and more cost effectively, and without the risks associated with customized solutions.
"To make it easier for OEMs to engineer better machine solutions for their customers, we provide an innovative BASIC programming environment with Kollmorgen WorkBench.  With WorkBench there's just one software package to use for all of the drive setup, configuration, tuning and management tasks, in addition to motion and machine control programming," explains Hunt.
A Programming Editor is integrated into the same AKD WorkBench as the rest of the AKD servo drive family; no extra software package is required.  The user-friendly program editor provides Syntax Highlight, Auto-Complete, Auto-Format and code snippet functionality for faster code development.  The program editor also includes debugging tools that enable single-stepping, break-points, and step over program control.
An optional expanded I/O version of AKD BASIC servo drives is available.  With this option achieving 20 total digital inputs and 12 total digital outputs, it can eliminate the need for remote I/O to reduce wiring requirements and costs.  The optional expanded I/O version also comes with an SD memory card, enabling users to transfer programs without requiring a PC, simplifying maintenance and replication of drives.
AKD BASIC servo drives are one member of a comprehensive AKD servo drive family providing programmable scalability for customers so that any application can be solved with a common interface. AKD servo drives facilitate true plug-and-play operation with standard Kollmorgen servomotors, direct drive motors, and linear positioners to get an optimized, high-performance system up and running quickly, in less space and for less cost, than lower performing options.  Multiple Ethernet connectivity options available from the base hardware support a variety of protocols, without the need for separate option cards. And a broad power range in a smaller, compact design enables machine builders to use these robust drives with a single interface.
ABOUT KOLLMORGEN
Kollmorgen is a leading provider of motion systems and components for machine builders around the globe, with over 70 years of motion control design and application expertise.
Through world-class knowledge in motion, industry-leading quality and deep expertise in linking and integrating standard and custom products, Kollmorgen delivers breakthrough solutions unmatched in performance, reliability and ease-of-use, giving machine builders an irrefutable marketplace advantage.
For more information visit
www.kollmorgen.com
, email support@kollmorgen.com or call 1-540-633-3545.