Product News: Electrical Equipment & Systems
Compact Filtered Inlet withstands high-temperature environments.
Press Release Summary: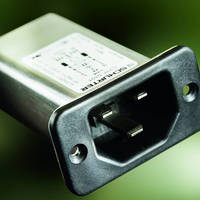 January 10, 2013 - Rated at 155°C, C22F appliance inlet with power line filter suits equipment requiring electrical components rated for high ambient temperatures. Chamfered shape of inlet differentiates its style according to IEC 60320 C22, and power line filter is rated for ambient temperatures up to 16 A at 75°C and 20 A at 65°C. Filters are available in standard and medical versions suitable for applications according to IEC 60950 and IEC 60601-1. Product is also available without filters.
Original Press Release
Compact Filtered Inlet for Equipment Used in High Temperature Environments
Press release date: January 9, 2013
New IEC 60320 style C22 inlet with power line filter fills market gap

Santa Rosa, California – SCHURTER is pleased to announce its new C22F appliance inlet with filter for use in equipment requiring electrical components rated for high ambient temperatures. The unique design provides higher temperature ratings in a standard compact package, thus filling a gap between existing products on the market and the increasing demand for higher performing components.

The C22F appliance connector is rated at 155°C. The chamfered shape of the inlet differentiates its style according to IEC 60320 C22, versus the rectangular shape of the more standard C20 style rated at 70°C. Combined with a power line filter rated for ambient temperatures ranging up to 16A at 75°C and 20A at 65°C, the unique design provides exceptional attenuation characteristics at high ambient temperatures.

The C22F and C20F are ENEC approved at 16A at 250 VAC and cURus approved at 20 at 250 VAC. SCHURTER also offers the inlets without filters. The filters are available in standard and medical versions suitable for applications according to IEC 60950 and IEC 60601-1. Applications include power distribution units, IT servers, medical heating appliances and imaging systems. Versions with extra large X capacitor of 330 nF are available. Terminals are quick-connect or solder. Wire leads are available on request. Mating cord connectors and moulded cord sets are also supplied.

Pricing for the C22F starts at about $23.80 each for 100 pieces. Additional information on the C22F and C20F can be found on SCHURTER's website at http://www.schurterinc.com/new_emc. Contact Cora Umlauf at 800 848-2600 or info@schurterinc.com for sales and product information.

About Schurter Inc.
SCHURTER is a progressive innovator and manufacturer of Circuit Protection, Connectors, Switches, and EMC Products to the electronic and electrical industries worldwide. SCHURTER's three divisions: Components, Input Systems and Electronic Manufacturing services are formed to provide customer specific products and services, which focus on clean and safe supply of power and making equipment easier to use. These core competencies bring a high degree of innovation to SCHURTER's main markets IT / Telecom, Medical, Space and Renewable Energy.

SCHURTER meets its customers' highest demands through certified quality, environmental and safety management systems including ISO 9001, ISO 14001, OHSAS 18001 and highly developed processes (Six Sigma method). Excellent services are upheld through the consistent application of an all encompassing quality management system.

Schurter Inc., Santa Rosa, California is the exclusive North America sales and distribution office for the Schurter Group.

SCHURTER INC.
447 Aviation Boulevard
Santa Rosa, CA 95403
Telephone 707 636 3000
Facsimile 707 636 3033
www.schurter.com