Product News: Mechanical Power Transmission
Compact Engine suits power generation applications.
Press Release Summary: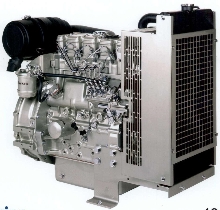 March 15, 2004 - Hitting 20 kVA power node, 404C-22G ElectropaK is offered in 50 and 60 Hz specifications with ratings of 1,500, 1,800, and 3,000 rev/min. Complying with all emissions legislation, it emits 2 Bosch Smoke Units and bare engine noise to 3 bB(A). Cooling pack, coupled with low air filter position, enable engine to provide optimum power density. Single canopy cross section fits entire range, and regular service intervals occur every 500 hr.
Original Press Release
Perkins Launches Compact Engine for Power Generation
Press release date: February 17, 2004
Mossville, IL, Feb. 17 -- Perkins is announcing at World of Concrete, for the first time in North America, its latest compact engine for the power generation market, a 404C-22G ElectropaK package.

This expansion of the 400 Series range consists initially of three key models; the 404C-22G is the top of the range, hitting the 20 kVA power node. This is followed by the 1.5 liter, 403C-15G and the 1.1 liter, 10 kVA 403C-11G. Two more models will be added to bring the range to 5 engines over the next two years.

All these models are offered in both 50 and 60 Hz specifications with ratings offerings of 1500, 1800 and 3000 rev/min. A 3600 rev/min option on the 403C-11 G will also be included in the line up. The 3 cylinder, 0.7 liter and 2 cylinder 0.5 liter, 403C-07G and 402C-05G offered at both 3000 and 3600 rev/min will conclude 400 Series power generation lineup.

Compact Package Size: 400 Series industrial engines are well established in the marketplace and are known for their compactness; this philosophy has been carried through into the ElectropaK range. An innovative, newly designed cooling pack, coupled with such other improvements as lower air filter position, ensure that the 400 Series ElectropaKs provide optimum power density, making installation and transportation easier and cheaper. The ElectropaK has also been designed so that one canopy cross section fits the entire range, again reducing the expense and amount of engineering work required by the customer.

Clean & Quiet: The 400 Series is clean, complying with all emissions legislation. It emits low levels of smoke (reduced to two Bosch Smoke Units which makes it all but invisible to the naked eye). Bare engine noise is reduced to 3 bB(A) which increases the acceptability of this engine to customers and contributes to reducing engine installation costs.

The ElectropaK has been designed so that one canopy cross section fits the entire range, again reducing the expense and amount of engineering work required by the customer.

Another significant area where development efforts are always appreciated is the reduction of operating costs. Increased service intervals of 500 hours, a two year standard warranty, improvements in oil and fuel consumption and high levels of durability and product reliability all contribute to a significant reduction in machine downtime.

Perkins Engines Company Limited, headquartered in Peterborough, England, with North American headquarters in Mossville, II., is the world's leading supplier of off-highway diesel and gas engines in the 4 - 2000 kW (5 - 2600 hp) market.

Perkins was acquired by Caterpillar in 1999; its engines are branded and marketed separately.

Perkins' key strength is its ability to tailor engines precisely to meet customers' requirements. More than 300,000 engines are manufactured every year -- that's one every minute -- to 21,000 different specifications.

That is why over 1,000 major international OEMs in the construction, agricultural, power generation, materials handling, and defense markets choose Perkins to provide their power. Whatever the requirement, Perkins has the solution, backed by support from one of the world's largest and most sophisticated networks of 4,000 dealers and distributors in 160 countries. Today over 15 million pieces of equipment have benefited from Perkins power.