Product News: Electrical Equipment & Systems
Compact 15 W AC/DC Power Supply targets medical applications.
Press Release Summary: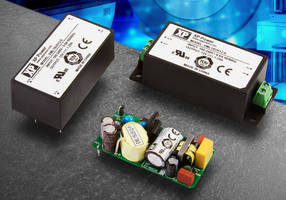 July 7, 2014 - Complying with medical safety standards, EML15 series provides two means of patient protection between primary and secondary. Open-frame PCB mount version measures 2.44 x 1.21 x 0.95 in., and other package options include open frame chassis mount with connectors and encapsulated models with PCB mounting or screw terminals. Power density is 5.3 W/in.³, and 8 single-output models are available with output voltages from +3.3 to +48 Vdc. Peak load capability allows 130% of rated output power.
Original Press Release
Ultra Compact 15 Watt AC-DC Power Supply Targets Medical Applications
Press release date: June 1, 2014
XP Power today announced the EML15 series of 15 Watt single output AC-DC power supplies suitable for use in medical equipment. Complying with 3rd edition EN60601-1, ES60601-1, CSA-C22.2 No. 60601-1, IEC60601-1 medical safety standards, this extremely compact power supply is believed to be the smallest device at this power rating available in the industry. The supply provides two means of patient protection (MOPP) between primary and secondary. Measuring just 2.44 x 1.21 x 0.95 inches (62.0 x 30.7 x 24.4 mm) for the open-frame pcb mount version, the EML15 occupies very little board space and also offers a very high power density for this type of supply of 5.3 Watts per cubic inch. With its Class II construction no earth connection is required, this being ideal where a reliable ground connection may not be available.
Eight single output models are available in the common nominal output voltages from +3.3 to + 48 VDC. A peak load capability allows the EML15 to provide 130% of rated output power in order to accommodate short-term high power loads. This approach allows designers to avoid having to specify a higher rated power supply and saves both extra cost and board space.
In addition to an open frame PCB mounting format other optional mounting packages are available, these include open frame chassis mount with connectors, and encapsulated models with either PCB mounting or screw terminals. A DIN rail mounting clip is also available for use with the encapsulated screw terminal package option.
The EML15 series is convection cooled and able to operate in most environments with a wide temperature range of – 25 degrees C to +70 degrees C. Derating is applied above +50 degrees C. No forced air flow or additional heat sinking is required.
The series meets the limits for Class B conducted and radiated EMC specifications of EN55022 without the need for any additional external filtering components.
The EML15 series is priced at $23.40 for 500 pcs orders. They are available from Newark or direct from XP Power and come with a 3 year warranty.
For further information and reader enquiries:
Duane Darrow
XP Power
990 Benecia Avenue
Sunnyvale, CA 94085
Tel:  (971)-322-0326
Email:
ddarrow@xppower.com
Fax: (408)-732-2002 
Web:
www.xppower.com
William Sng SK
XP Power (Singapore) PTE LTD
Tel: +65 68469368  
Email:
wsng@xppower.com
Fax: +65 67418730  
Web:
www.xppower.com
For further information, text and graphics by email or to discuss feature article opportunities:
Robert Huntley
Publitek Limited
18 Brock Street
Bath, BA1 2LW, United Kingdom
Tel: +44 (0) 1225 470000 
E-mail:
robert.huntley@publitek.com
Fax:  +44 (0) 1225 470047 
Web:
www.publitek.com
XP Power is committed to being a leading provider of power solutions, including AC-DC power supplies and DC-DC converters. With ISO9001:2008, XP Power offers total quality, from in-house design through to manufacturing facilities around the world. The company offers the widest range of power products available from one source and unrivalled technical and customer support, aiding both vendor consolidation and cost reduction programmes. XP has 27 sales offices throughout Europe, North America and Asia.
XP Power Ltd, a London Stock Exchange listed public company, has design centres in Fyfield (UK), Orange County (California), and Singapore, which also serves as the company's headquarters. Manufacturing is carried out near Shanghai, China and Ho Chi Minh City, Vietnam. The design teams push back the boundaries of cost and technology, providing market leading power products. Dedicated in-house Engineered Solutions teams provide customer specific solutions, with rapid response times. The applications team provide expert technical support to help customers integrate and use XP power products worldwide.
www.xppower.com