Product News: Computer Hardware & Peripherals
COM Express Basic Type 6 Module serves automation applications.
Press Release Summary: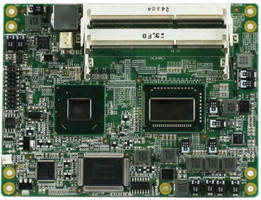 January 3, 2013 - To maximize computing and graphic performance, ACM-B6360 features Intel® 3rd generation FCBGA1023 Core™ i7 processor with QM77 platform and 2 DDR3-1333 SO-DIMM sockets (16 GB max) with ECC. Processor supports 3 independent displays with multiple output options, and design is based on COM Express Type 6 pin-out design. I/O interfaces include 2 SATA 3.0 and 2.0, 4 USB 3.0 and 2.0, and one each GbE and I²C, SMBus, and LPC. Expansion is offered via PCI-E x16 Gen 3.0 and 7 PCI-Ex1 interfaces.
Original Press Release
Acrosser COM Express Basic Type 6 Product with Great-Performance for Industrial Automation Application
Press release date: December 27, 2012
ACROSSER Technology, a world-leading embedded solution provider and manufacturer, launches newest COM Express Basic Type 6 Module, the ACM-B6360. ACM-B6360 features Intel 3rd generation FCBGA1023 Core i7 processor with QM77 platform, two DDR3-1333 SO-DIMM with ECC and providing great computing and graphic performance. Which is suitable for Industrial Automation and Entertainment applications.

ACM-B6360 is base on COM Express Type 6 pin-out design and supports two DDR3-1333 SO-DIMM socket with ECC and four native USB 3.0 ports. Working with Acrosser evaluation basboard ACM-B4080. It provides not only speed and but also reliability. Moreover, two SATA 3.0, two SATA 2.0, four USB 3.0, four USB 2.0, one GbE and I2C, SMBus interface are integrated on them. Even with great computing and graphic performance, the optimized power design delivers high power efficiency and decrease system heat.

The ACM-B6360 carries on board Intel 3rd gnenration Core i7-3615QE FCBGA1023 processor which supports three independent display with multiple output : 24-bit LVDS, VGA, HDMI and one DDI interface. One PCI-E x16 Gen., 3.0 and seven PCI-Ex1 interfaces for IO expansion. It is suitable for Medical, Test & Measurement and Transportation applications.

ACM-B6360 and ACM-B4080 - COM Express Type 6 carrier board are available now. For more information, please contact ACROSSER Technology, ACROSSER USA, and ACROSSER worldwide resellers in your local area.

Key features:

1. COM Express Basic Type 6 Module with Fan heatsink
2. Onboard Intel 3rd Generation Core i7-3615QE BGA processor
3. Two DDR3 SO-DIMM sockets with ECC supportted, up to 16GB
4. Supports 3 independent display output
5. 1 x PCI-E x16 Gen.3, 7x PCI-E x1 interfaces
6. 2 x SATAIII ports, 2 x SATAII ports
7. 4 x USB 3.0 ports, 4 x USB 2.0 ports
8. 1 x GbE, I2C, SMBus, LPC interface

Product information:
http://www.acrosser.com/Products/Single-Board-Computer/Others/ACM-B6360/COM-Express-Basic-Type-6-ACM-B6360.html

Contact:
http://www.acrosser.com/inquiry.html