Cold Packs are ammonium nitrate-free.
Press Release Summary: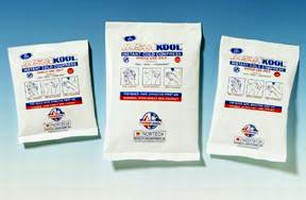 April 10, 2008 - Designed to meet all cryotherapy and modality needs, InstaKool(TM) Instant Cold packs feature urea-based formulation. Cold packs exceed ANSI Requirements for Cold Packs 5.2.1.6 and ASTM Method D882 for Tensile Strength at Break for cold duration. Latex-free products are available in 3 sizes for different contours and uses.
Original Press Release
Nortech Labs Labs Focuses on National Security: Supplying Ammonium Nitrate Free Alternatives to Instant Cold Packs.
Press release date: April 8, 2008
After 9/11, no Ambulances or Emergency Medical Services (EMS) were permitted entry to ground zero with any rescue or safety products containing Hazardous Materials within their vehicles. Surprisingly, one of the most dangerous, explosive and hazardous materials is found in most Instant Cold Packs out there today.

Ammonium Nitrate is globally distributed and has led to or contributed to accidental explosions and plotted terrorist attack. Shockingly, there is little restriction in obtaining one of the most hazardous materials, Ammonium Nitrate (AN). This dangerous component is found in safety and first aid products such as instant cold packs, commonly found in households, schools, the workplace, etc. Believe it or not, institutions such as firehouses and hospitals are carrying these cold packs with the explosive substance AN unaware of the potential dangers. Nortech Labs Labs is taking a proactive approach to the saying "for every hazardous substance there is a safer alternative."

In many cases, safer alternative products are developed with the environment and human health in mind. A select amount of companies pride themselves on safer and effective alternatives. Nortech Labs Labs, a United States (USA) based manufacturer is a leader in the HOT and COLD gel pack therapy market and has kept safety in mind since day one for over forty-five years with substantial focus on National Security.

Nortech Labs Labs is one of the first companies to integrate and deliver a REVOLUTIONARY cold pack that's stays colder longer. InstaKool Instant Cold packs are used in first aid situations to serve immediate cold therapy to relieve the pain and swelling caused by sprains, strains, contusions, minor burns, toothaches, insect bites, etc. InstaKool is designed to meet all cryo-therapy and modality needs. It quickly helps reduce swelling, ease pain and promote faster recovery for any conditions requiring cold therapy.

InstaKool is the first Ammonium Nitrate FREE; Urea based proprietary formulation to rival the competitive temperature ranges of previous Ammonium Nitrate formulas. Nortech Labs Labs has established standards and safety features that are leaving current suppliers cold. InstaKool exceeds the American National Standard Index Requirements (ANSI) for Cold Packs 5.2.1.6 and ASTM Method (D882) for Tensile Strength at Break for cold duration more so than rivaled instant cold packs. So why buy any other cold pack?

One pallet, approximately 60-100 cases of instant cold packs can yield up to 700lbs of pure Ammonium Nitrate. It took 1800 lbs to do the damage it did in the case of Okalahoma City. There are thousands of pallets of instant cold packs with this explosive and hazardous material Ammonium Nitrate in warehouses all over the world. Some may not even be marked with the required ORM-D label classifying it as a Hazardous Material.

Safer and HAZ-MAT Free, Nortech Labs Labs's InstaKool is the answer for current suppliers and distributors because it eliminates the HAZMAT fee that suppliers are paying. With InstaKool no O-RMD label is required. Recent legislature has put constraints on the storage, facilities and use of ammonium nitrate. Past headlines have also noted that from the Oklahoma bombing to the train bombings in England, AMMONIUM NITRATE (fertilizer) has been key components of explosives used.

Nortech Labs Labs's InstaKool(TM) Instant Cold Compress Features:

AMMONIUM NITRATE FREE! Safer, Cost Effective First Aid 3 Sizes for Different Contours and Uses Stays Colder Longer Exceeds American National Standard - Minimum Requirements for Workplace First Aid Kits (ANSI Z308.1-1998) Latex Free Instant Activation No Shipping Restrictions, Additional Haz-Mat Charges or Labeling Requirements o Ship by Air, Land, or Sea o Haz-Mat FREE - No ORM-D Label on Box