CNC Turret Punch Press accommodates large workpieces.
Press Release Summary: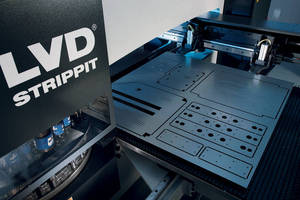 December 22, 2011 - Midrange 20 metric ton press, Strippit M-1525, handles workpieces up to 60 x 98.4 in. nominally or 60 x 157 in. with one sheet repositioning. Features include 47-station turret, three 3.5 in. auto-index stations, and four 2 in. stations. Able to accept diverse tooling, system also features hardened steel guide bushings, hardened shot pins, bi-directional turret rotation, and servo-driven hydraulic press drive. Axis speeds reach 400 and 850 hits/min on 1 and 0.04 in. centers, respectively.
Original Press Release
New Strippit M-1525 CNC Turret Punch Press Features Large Table Capacity
Press release date: December 19, 2011
Akron, NY -- LVD Strippit. introduces the Strippit M-1525 to the Strippit M-Series line of midrange 20 metric ton CNC turret punch presses. The Strippit M-1525 handles large or oversized workpieces up to 60" x 157" (1524 x 4000 mm) with only one sheet repositioning and is therefore ideal for the fabrication of large panels in cellular manufacturing or job shop environments.
LARGE TURRET CAPACITY The Strippit M-1525 features a versatile, large-capacity 47-station turret that minimizes set-up time to increase machine productivity. The punch press is equipped with three 3.5" (88,9 mm) auto-index stations and four 2" (50,8 mm) stations to accommodate large punching and forming operations. Every station accepts shaped punches and dies and can be enhanced with the addition of indexable multi-tools to further expand turret capacity and flexibility while reducing set-up time. Quick-change die holders also minimize tool changeover time.
The Strippit M-1525 accepts the latest in tooling technology, including special forming tools, wheel-style tooling, tapping and deburring systems.
Hardened steel guide bushings and hardened shot pins provide precise alignment of punch and die for exceptional hole quality and long tool life. Bi-directional turret rotation automatically selects the shortest possible route to the next punching station for fast station-to-station positioning resulting in higher productivity.
OPTIMIZED DESIGN The Strippit M-1525 uses an advanced servo-driven hydraulic press drive optimized for highperformance operation. Axis speeds of up to 400 hits per minute on 1" (25 mm) centers and up to 850 hits per minute on 0.04" (1 mm) centers are achieved.
The punch press maximizes material utilization by handling workpieces up to 60" x 98.4" (1524 x 2500 mm) with larger sheets processed using sheet repositioning. Workpiece thicknesses up to 0.250" (6,35 mm) are accommodated.
Material utilization is further optimized with Smart Clamp(TM), a standard feature that automatically determines exact clamp locations to reduce set-up time and ensure work clamp protection.
All Strippit M-Series machines feature a full .984" (25 mm) feed clearance between the upper and lower turret, allowing for the production of higher forms such as lances, louvers, embossments or card guides.
A brush table minimizes noise and part scratching and permits economical changeover or replacement of individual brushes.
ENERGY REDUCTION SYSTEM The Strippit M-1525 is equipped with LVD's Energy Reduction System (ERS), which reduces machine energy consumption. The punch press consumes up to 30% less electrical power than comparable machines and is less costly to operate and maintain.
FANUC CONTROL A state-of-the-art, PC-based Fanuc control is easy to use and proven reliable.
The control powerful features such as diagnostics, offers large program storage capacity and networking capability.
The CNC control provides powerful features such as full color graphics, advanced "real-time" diagnostics, increased program storage capacity and is network ready with user friendly MMI (man-machine-interface) for easy transfer of programs from other computers.
Optional CADMAN® programming software provides automatic unfolding of 3D SAT and IGES files, auto-nesting full support for all standard and advanced punching functions, including auto-index stations, multi-tools, standard and special punches, forming, embossing, tapping, stamping and wheel-style tools.
AUTOMATION READY The Strippit M-1525 can be integrated with an optional, retrofitable automatic load/unload system or 6- or 10-pallet Compact Tower (CT-P) for material loading, unloading and storage.
ABOUT LVD The LVD Group is a leading manufacturer of a comprehensive range of sheet metal/plate working machine tools and software solutions, including laser cutting systems, punch presses, press brakes, guillotine shears and mid-level automation systems, integrated and supported by its CADMAN® PC-based Windows® compatible software.
For more information, contact Strippit, Inc., 12975 Clarence Center Road, Akron, NY 14001, call toll free 1-800-828-1527, e-mail: marketing@strippit.com or visit
www.lvdgroup.com
.