Product News: Machinery & Machining Tools
CNC Carbide Cutoff System features remnant reduction device.
Press Release Summary: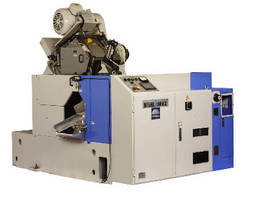 September 26, 2012 - When amount of incoming bar is less than 90 mm + cut length, Nishijimax NHC-100ND automatically shifts length setting device to NC-controlled gripper vise on out feed side of saw blade, which will continue gripping until final bar end is 30 mm. System is equipped with 15.5 hp induction motor that drives saw blade spindle via reduction gearbox. Saw blade feed rate is controlled via AC Servo Motor with encoder, Mitsubishi programmable servo drive, and precision ball screw.
Original Press Release
Pat Mooney Inc. Introduces Nishijimax NHC-100ND Cutoff System with Remnant Reduction Device
Press release date: September 20, 2012
Addison, IL – New from Pat Mooney Inc. – The Saw Company, the Nishijimax NHC-100ND Cutoff System features an exclusive patent-pending remnant reduction device to greatly reduce the amount of the remnant in auto cycle. When the amount of incoming bar is less than 90mm + cut length, the NHC-100ND automatically shifts the length setting device to a special NC controlled gripper vise on the out feed side of the saw blade. This device will grip the bar end from the out feed side of the saw blade and continue until the final bar end is 30mm. This process is automatic and adds @ 1 sec to the final parts of the bar end. The NHC-100ND will continue to cycle as long as bars remain on the table or until a pre-determined number of cuts are made.
Available exclusively from Pat Mooney Inc., Nishijimax Systems cut more parts per hour and more parts per blade than a standard production saw. A single Nishijimax CNC Carbide Cutoff System can replace three to four production saws.
The Nishijimax NHC-100ND features a saw spindle drive unlike any other. The 15.5 HP induction motor drives the saw blade spindle via reduction gearbox. The RPM output of the gearbox is controlled by a FREQROL inverter drive.  This system offers precision torque control.  Constant torque is maintained throughout the RPM range. This is especially important when sawing through materials at high sawing rates.
The NHC-100ND's  precise feed rate is set automatically, and input chip load is maintained through Nishijimax's exclusive NC Saw Spindle Feed Axis. The saw blade feed rate is controlled via an AC Servo Motor with encoder, a Mitsubishi programmable servo drive and a precision ball screw. Compared to hydraulic systems, there is no fluctuation for temperature or condition of the oil, and job set up takes less than five minutes with the CNC Controller.
Other features of the NHC-100ND include Nishijimax's original powder metal saw blade brake for zero vibration when the blade enters the cut. A gearbox oil chiller maintains constant gearbox temperature throughout 24/7 operation, thereby extending the life of the gearbox and the saw blades. NHC-100ND saw blade lubrication is supplied via air to the cutting edge of the blade with a precision-metered system. No flood coolant is used. The lubricant is used during the sawing of the material. 
The material clamping system is a hydraulic 4-point system with both horizontal and vertical clamps. Proximity switches monitor all clamping functions. Clamping pressure is adjustable. The saw blade housing is mounted to the massive NHC-100ND saw head.  The housing contains the saw blade. The saw blade is guided into the work piece with ceramic guides.  These guides provide 6-point contact to eliminate blade wobble or deflection during sawing. 
TA-4 and ST-4 Kanefusa blades are available from Pat Mooney for use with Nishijimax Systems. These high-performance saw blades allow material to be cut faster and with much less material loss due to kerf. The tooth design allows every tooth to remove and entire chip. 
Pat Mooney is the exclusive importer and sales/service agent for Nishijimax Cutoff Systems. Along with Nishijimax, Pat Mooney's extensive line includes a complete range of Danobat Saw systems, FMB Band Saws, PMI Precision Upcut Cold Saws for Aluminum Profiles, Manual Cold Saws, Kanefusa Saw Blades and Cold Saw Blades.
For more information from Pat Mooney Inc. – The Saw Company, call 800-323-7503, e-mail info@patmooneysaws.com, visit
www.patmooneysaws.com
, or contact Pat Mooney Inc. – The Saw Company, 502 S. Westgate Street, Addison, IL 60101, Phone:  (800) 323-7503, Fax: (630) 543-5584.