Product News: Communication Systems & Equipment
CMD242 and CMD244 Distributed Amplifiers are suitable for aerospace applications.
Press Release Summary: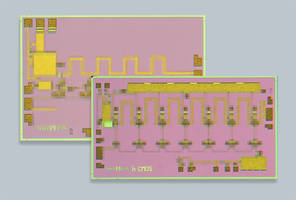 February 16, 2017 -
Available in CMD242 and CMD244 models, Distributed Amplifiers are used in aerospace, commercial and military applications. Featuring 10.5 dB gain with ±1 dB flatness and 4.4 dB noise figure, CMD242 delivers P1dB of 18 dBm and OIP3 of 27 dBm at 20 GHz output and consumes 100 mA current. Offering 8 dB gain and 2.5 dB noise figure at 10 GHz, CMD244 provides P1dB of 25 dBm, OIP3 of 32 dBm output.
Original Press Release
Custom MMIC's New Distributed Amplifiers Offer Unique Positive Gain Slope, Operate to 40 GHz
Press release date: February 14, 2017
Custom MMIC, a leading developer of GaAs and GaN monolithic microwave integrated circuits (MMICs), has added two unique distributed amplifiers to their performance leading standard product line. Custom MMIC continues its focus on offering value-added MMIC solutions for aerospace, commercial and military applications.
The CMD242 distributed amplifier features ultra-wideband performance from DC to 40 GHz while delivering 10.5 dB of gain with a flatness of +/- 1 dB. The noise figure of the CMD242 is 4.4 dB, with an output P1dB of 18 dBm and OIP3 of 27 dBm at 20 GHz. With a low current consumption of 100 mA, the CMD242 leads the market for the broad frequency and high dynamic range requirements.
The CMD244 distributed driver amplifier covers DC to 24 GHz, with a unique positive gain slope over frequency range. The positive gain slope feature decreases the requirement for equalizer circuitry, saving SWaP in many communications and measurement designs. The GaAs MMIC has a P1dB of 25 dBm, OIP3 of 32 dBm, 8 dB of gain and a noise figure of 2.5 dB at 10 GHz.
For more information visit the Custom MMIC product library to download the full datasheets on the CMD242 and CMD244.
About Custom MMIC
Custom MMIC is a leading developer of performance driven monolithic microwave integrated circuits (MMICs). Embracing their customers' challenges, the company offers both a growing family of high-performance MMIC standard products and innovative custom-design services. Their engineering team is highly experienced in a broad range of III-V processes (e.g. GaAs, GaN, InP, InGaP) and has longstanding relationships with the leading foundries. Custom MMIC specializes in RF through millimeter-wave circuits serving diverse markets including wireless and wired communications, satellite, radar systems, cellular infrastructure and instrumentation. The company was founded in 2006 and is based in Chelmsford, MA. For more information, visit www.custommmic.com.
Company Contact:
John Greichen
Custom MMIC
978-467-4290