Product News: Mechanical Power Transmission
Clutch/Brakes come in food grade and washdown trim.
Press Release Summary: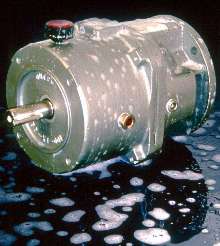 April 15, 2003 - Posidyne X Class oil-shear clutch/brakes feature torque ratings from 100-1,000 lb-in., cycle rates to 400+ cpm, and 20 msec response. Models fit drives up to 10 hp. Oil-shear provides inherent cushioning, and high thermal capacity eliminates torque fade. Washdown units have USDA-approved STEEL IT epoxy coating, stainless steel fasteners, nickel-plated shafts, stainless steel clamp collar, and non-corrosive sight gauge with plastic windows and plastic breather.
Force Control Industries, Inc. - Fairfield, OH
Original Press Release
High-Cycling Posidyne X Class Oil-Shear Clutch/Brakes Now Available in Washdown Trim, Deliver 24/7 Reliability
Press release date: April 1, 2003
Tested to 40 million cycles, affordable clutch/brakes bring a speed boost and high reliability to food/pharmaceutical/cosmetic processing and packaging, other hygienic operations

APRIL, 2003 - Now available in food-grade and washdown trim, Posidyne X Class oil-shear clutch/brakes eliminate a weak link in food, pharmaceutical, and cosmetic processing and packaging lines, and other hygienic operations. Ideal for high-cycling machinery in 24/7 production, the Posidyne X Class delivers 2 to 10 X higher cycle rates free of fade or overheating, with up to 10 X longer service life than "disposable" dry clutch brakes - all at 50% lower per-cycle cost. Washdown units feature USDA-approved STEEL IT epoxy coating, stainless steel fasteners, nickel-plated shafts, stainless steel clamp collar, and non-corrosive sight gauge with plastic window and plastic breather.

Manufactured by Force Control Industries, the industry leader in oil-shear clutch/brake technology, the ruggedly engineered Posidyne X Class comes in four off-the-shelf standard models - Xl, X2, X3 and X4 - providing torque ratings from 100 to 1000 in.lb,, cycle rates to 400+ CPM, and 20 msec. response. The model range covers the most popular clutch/brake sizes, fitting drives up to 10 hp.

Designed for volume production and economies of scale, the Posidyne X Class makes high-performance oil-shear technology widely affordable. Advanced capabilities allow OEM designers and systems integrators to achieve higher performance and reliability, while eliminating MRO headaches for plant managers and maintenance staff:

o service life tested to more than 40 million cycles - eliminates frequent changeouts typical with dry clutch/brakes; o oil-shear provides inherent "cushioning" - reduces shock loads on motors and other machine components to save on maintenance and downtime; o 60-88% lower internal inertia for ultra-quick acceleration with maximum usable horsepower; o four to five times higher thermal rating - enables fade-free stopping and no burned clutches; o energy savings - reduces high starting inrush current and associated power factor imbalance. o no-play clamp up - protects against key/ keyway/shaft damage o only annual oil change required for maintenance; and zero adjustments.

Force Control's proprietary oil-shear technology has proven itself in the toughest production environments, including automotive, lumber, building products, food processing and warehousing. Posidyne X Series clutch-brakes transmit torque by shearing automatic transmission fluid between multiple friction discs (Mobil 1 Synthetic Oil for washdown models). The recirculating fluid minimizes wear while absorbing the heat of engagement, dissipating it through the housing. High thermal capacity virtually eliminates torque fade and provides excellent positioning repeatability in cycling applications.

Pneumatic actuation makes it easy to precisely control both torque and engagement speeds with a simple pressure change, as well as adjust for rapid or soft starts/stops. Two logic types are available - air-set clutch/spring-set brake, and air-set clutch/air-set brake.

Convenient double C-face mounting and handy clamped-split quill allow drop-in, bolt-up installation. The clamped-split quill design ensures trouble-free service in high-cycle-rate production. It eliminates play between keyway, key and input quill shaft to assure long service life. For maximum installation versatility, the X Class is available in horizontal, vertical-input down, and vertical-input up versions.

Washdown models feature a double layer of hard-coat epoxy, with the exterior a STEEL IT coating system of unique stainless steel leafing pigment. This gives a hard, non-toxic, metallic finish that protects against ultraviolet rays, chemicals, oils, alkalis, food acids, impact and abrasion, moisture, and high-pressure washdown.

For additional information on the new Posidyne X Series clutch/brakes, contact Stan Porter, Sales Manager, Force Control Industries, Inc., P.O. Box 18366, Fairfield, OH 45108. Phone 1-800-869-3244. Fax 513/868-2105. E-mail: xseries@forcecontrol.com