Product News: Cleaning Products & Equipment
Cleaner/Degreaser is available in aerosol.
Press Release Summary: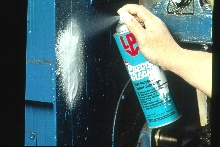 May 20, 2002 - Precision Clean Multi-Purpose Cleaner/Degreaser provides foaming action that clings to vertical surfaces to remove greases, oils and soils. Biodegradable formula does not contain butyl, chlorinated or petroleum solvents, bleach, ammonia or abrasives. Aerosol uses Inverta Spray Valve, which allows users to spray in upright or inverted position. Precision Clean is available in 18 oz can, 28 oz spray bottle and in 1, 5, and 55 gal concentrate sizes.
Original Press Release
LPS Introduces a Water-Based Foaming Cleaner in an Aerosol
Press release date: May 20, 2002
LPS's Popular Precision Clean Multi-Purpose Cleaner/Degreaser is Now Available in Aerosol ATLANTA-LPS Laboratories introduces a new aerosol version of the popular Precision Clean Multi-Purpose Cleaner/Degreaser, an industrial strength water-based cleaner. This new aerosol with extreme foaming action will cling to vertical surfaces to lift and remove greases, oils and other tough soils. Precision Clean's biodegradable formula does not contain butyl, chlorinated or petroleum solvents, bleach, ammonia or abrasives. Precision Clean Aerosol also uses LPS's Inverta Spray Valve, allowing end users to spray in upright or inverted positions. Precision Clean Aerosol is available in a convenient 18 oz. can. Precision Clean is also available in a ready-to-use 28 ounce trigger spray bottle and in 1, 5 and 55 gallon concentrate sizes. In addition to providing Precision Clean Multi-Purpose Cleaner/Degreaser, LPS Laboratories is a leading manufacturer of high performance degreasers, contact cleaners, lubricants/penetrants, cutting fluids, greases and corrosion inhibitors. LPS offers free chemical audits and can discuss the benefits of a chemical consolidation program. LPS Laboratories is ISO 9001 certified. For ordering or product information, please call 1-800-241-8334. Visit our web site at http:\www.lpslabs.com. Additional product information and Technical Data Sheets may be obtained by dialing the LPS Info-Fax at 1-800-965-4321. Internet Web Site:
www.lpslabs.com