Product News: Computer Hardware & Peripherals
Class 10 UHS-I Memory Cards aid full HD video capture.
Press Release Summary: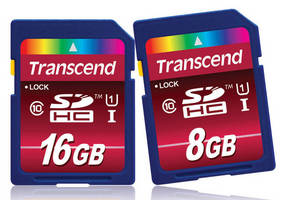 January 5, 2012 - Combining Class 10 specification with performance boost of Ultra-High Speed Class 1 (UHS-I), SDHC Class 10 UHS-I memory cards come in 8 and 16 GB capacities and optimize digital camera/camcorder operation via transfer speeds to 85 MBps. Up to 2 hr and 40 min of video can be stored when recording in 1920 x 1080 AVCHD format at 13 Mbps compression rate (up to 6 hr of HD video with reduced quality settings). Error Correction Code and RecoveRx(TM) software also come standard.
Original Press Release
Capture Full HD Video with Transcend's SDHC Class 10 UHS-I Memory Card
Press release date: December 1, 2011
Dedicated to fulfilling the diverse needs of different types of customers, Transcend Information, Inc. (Transcend®), a worldwide leader in storage and multimedia products, today announced the launch of its new SDHC Class 10 UHS-I memory card. Combining the already impressive Class 10 specification with the performance boost of UHS-I, Transcend's SDHC Class 10 Ultra High Speed memory cards unleash the full potential of today's high-end digital cameras and camcorders.
Developed by the Secure Digital (SD) Card Association as part of its SD version 3.01 specifications, Ultra-High Speed Class 1 (UHS-I) is the fastest category card available today. The new Class 10 SDHC UHS-I cards boast a staggering four times faster transfer rate compared to Class 10 alone, realizing transfer speeds of up to 85MB/s when paired with advanced UHS-I compatible devices. As a result, these cards are highly recommended for professional digital camera or camcorder enthusiasts aiming to capture high-speed consecutive shots and smooth full HD video.
Modern professional grade camcorders and DSLRs can fill memory cards quickly, capturing digital video and photographs at extremely high resolutions without compromising image quality. To meet these demands, Transcend SDHC Class 10 UHS-I cards are available in high-capacity sizes 8GB or 16GB, enough to store 2 hours and 40 minutes of video content when recording in high quality 1920x1080 AVCHD format at 13Mbps compression rate. Moreover, with a slight reduction in quality settings, the same 16GB card can record up to six full hours of high definition video.
Transcend's SDHC Class 10 UHS-I memory cards are an excellent value compared to other memory cards in the same class without compromising speed, capacity, and reliability. Each card features built-in ECC (Error Correction Code) that automatically detects and corrects any errors that might occur during data transfer. Additionally, the SDHC10 UHS-I card includes Transcend's own RecoveRx(TM) software - an extraordinarily effective tool for bringing back accidentally deleted or lost files. The new UHS-I memory cards are recommended to be used with Transcend's RDF8 USB 3.0 card reader or RDF1 ExpressCard Reader.
Transcend's new SDHC Class 10 UHS-I memory card is currently available in two capacities: 8GB (US$32 MSRP); 16GB (US$54 MSRP), and backed by Transcend's limited lifetime warranty.
About Transcend Transcend is a globally recognized leader in the manufacture of storage and multimedia products. Established in 1988, Transcend offers a full line of standard and proprietary memory modules, flash memory cards, USB flash drives, portable hard drives, solid-state drives, digital music players, card readers and multimedia products. Transcend has manufacturing facilities in Taiwan and China, and has offices in the United States, the United Kingdom, Germany, the Netherlands, Japan, Korea, Taiwan, and China. For more information, please visit http://in.transcend-info.com/
Thanks and Regards
Meenakshi Sr. Account Manager Alliance Public Relations Pvt. Ltd. D 1/14, Hauz Khas, New Delhi-16 M: +91-9810577773 L.: +91-11-41654699/46151992 E: meenakshi@proalliancepr.com Visit us at:
www.proalliancepr.com