Product News: Material Handling & Storage
Clamping Adjustable Levers maneuver in small spaces.
Press Release Summary: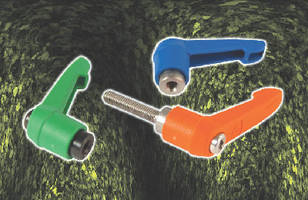 August 1, 2012 - Constructed of fiberglass-reinforced nylon with steel and stainless steel finishes on inserts and internal components, MPAL66M Series can be rotated and installed in varying directions most comfortable for use. Levers come in male and female styles with threaded insert or threaded screw/stud, and thread sizes from M5-M16. Lever colors include traffic red, orange, traffic blue, signal green, anthracite grey, and bright yellow.
Original Press Release
New Clamping Adjustable Levers
Press release date: July 31, 2012
Feature Easy Position Adjustments New Hyde Park, NY -- All Metric Small Parts - aMsp, a leading provider of industrial metric components for design engineering, enclosures, and green engineering is now introducing a variety of adjustable levers with greater clamping force and the ability to maneuver in small spaces. These clamping adjustable levers, identified as the MPAL66M .... Series, feature easy and quick installation and removal. They allow you to rotate the lever and install it in varying directions that will be the most comfortable for its use. All Metric Small Parts offers these clamping adjustable levers in Fiberglass Reinforced Nylon with steel and stainless steel finishes on its inserts and internal components. They are offered in a variety of colors and sizes to fit your design needs. aMsp offers them in colors including traffic red, orange, traffic blue, signal green, anthracite grey, and bright yellow and in thread sizes ranging from M5 to M16. These levers are also offered in male & female styles depending on the design need in question. An engineer or manufacturer may either obtain them with a threaded insert or with a threaded screw/stud. With so many options available to them, the design capabilities are endless. All Metric Small Parts offers many products in the category of levers, plus an array of other 100% RoHS compliant industrial metric components. These range from handles, hand wheels, hand cranks, grips, knobs, latches, locks, catches, hinges, screws, quick release ball-lock pins, plungers, mounts, and various hardware (screws, washers, etc). Detailed specifications are contained in catalog M110 available free upon request from All Metric Small Parts - aMsp, 2101 Jericho Turnpike, New Hyde Park, NY 11040-5416. Phone: 516-302-0152
Fax: 516-302-0153
Web:
www.allmetricsmallparts.com/press/adjustablelevers.htm