Product News: Materials & Material Processing
Chip Type Ferrite Bead optimized for minimal DC resistance.
Press Release Summary: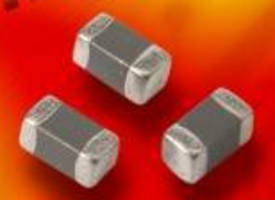 March 8, 2010 - Included within EIA 0201 (0.6 x 0.3 x 0.3 mm) size category, BLM03AX series offers DC resistance and power consumption ratings that help lengthen battery life of hand-held devices. Products come in range of impedance lineups between 10-1,000 W @ 100 MHz at rated currents up to 1,000 mA. Reduced impedance variance increases reliability when exposed to environmental stresses, such as thermal shock and high temperature load.
Murata Electronics North America, Inc. - Smyrna, GA
Original Press Release
Murata Develops World's Lowest DC Resistance in 0603 Size
Press release date: March 2, 2010
New Ferrite Beads Offer 50 Percent Reduction in DC Resistance and Component Power Consumption

Smyrna, GA - Murata Electronics North America, a world-leading innovator in electronics and the largest global supplier of ceramic passive components, today introduced the BLM03AX series, a high-performance chip type ferrite bead that provides the world's lowest DC resistance in the EIA 0201 (0.6mm x 0.3mm x 0.3mm) size category. By reducing the DC resistance 50 percent, the corresponding power consumption of the component also declines by half to lengthen the battery operation time of hand-held devices.

Chip ferrite beads, developed for noise suppression, are an increasingly critical component in the effort to extend battery power. As a result, Murata made enhancements to the materials and improved the manufacturing process to reduce DC resistance and component size.

"Murata's unyielding efforts to extend battery power has resulted in the high-performance, DC resistance cutting, BLM03AX series," said Tomohiro Tanaka, senior planning analyst for Murata Electronics North America. "What makes this product so unique is that it not only lowers resistance, but it does so in a small package without sacrificing other key characteristics."

The BLM03AX series comes in a wide range of impedance lineups between 10W@100MHz and 1,000W@100MHz at very large rated currents (up to 1,000mA). Murata also reduced impedance variance to increase reliability when exposed to environmental stress, such as thermal shock and high temperature load. The advanced ferrite bead series' impedance characteristics at these low frequencies make it ideal for general signal lines and power lines.

The BLM03AX series is available for $0.056 and lead times are approximately seven weeks.

Aside from the BLM03AX, Murata offers numerous EMIFIL(TM) products that are designed for use on signal lines and in power supply and general electronic circuits. The product range includes ferrite beads, ferrite cores, common mode chokes and a variety of other components to effectively suppress noise. Murata also provides technical support and guidance based on years of experience operating in the field of noise suppression. The technical support includes design kits, application manuals and a comprehensive set of software tools to simulate virtually any circuit condition.

About Murata Electronics North America (www.murata.com) Murata Electronics North America is a wholly owned subsidiary of Murata Manufacturing Co., Ltd., whose global headquarters are in Kyoto, Japan. Established in 1944, Murata Manufacturing is a worldwide leader in the design, manufacture and sale of ceramic-based passive electronic components and power supply modules. With annual revenues in excess of ¥524 billion, Murata is committed to the development of advanced electronic materials and leading edge, multi-functional, high-density modules. Products include: RF & microwave front end filters, connectivity modules, sensors, ceramic chip antennas, GaAs switches and Switchplexers(TM), baluns, couplers, isolators, coaxial connectors, RF test points, DC-DC converters, traps, discriminators, ceramic capacitors, EMI filters, inductors, piezoelectric alarms, ceramic resonators, trimming potentiometers, trimming capacitors and thermistors. The company has employees and manufacturing facilities throughout the world.