Product News: Optics & Photonics
Certified IR Gas Imaging Camera detects leaks at long range.
Press Release Summary: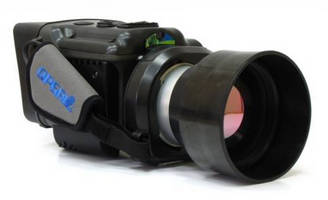 October 11, 2012 - Equipped with 75 mm lens and certified for use in Class I Div 2 hazardous locations, EyeCGas enables remote detection and visualization of gas leaks from up to hundreds of meters away. Ability to immediately detect fugitive leaks and GHG emissions reduces their environmental impact and promotes timely repairs. Certified camera specifically meets ATEX II 3G Ex nL IIC T6, ANSI/ISA-12.12.01, UL1604, and CSA C22.2 No. 213-M1987 standards.
Original Press Release
Industry's First Certified Camera for Long-Range Gas Leak Detection, Unveiled by Opgal at Gastech 2012
Press release date: October 4, 2012
KARMIEL, Israel -- The new EyeCGas Infrared Gas Imaging Camera equipped with a 75 mm lens is the only camera certified for use in Class I Div 2 hazardous locations enabling remote detection and visualization of gas leaks from a great distance

Opgal Optronic Industries [http://www.opgal.com ], a leading global provider of thermal and long range near IR imaging solutions, announced today a new long-range model of its EyeCGas Infrared Gas Imaging camera, using a 75mm lens. Utilizing its proprietary optical design, the EyeCGas infrared camera enables remote inspection of potentially leaking areas by detecting and visualizing even the smallest gas leaks from hundreds of meters away. EyeCGas is the only gas imaging camera certified for use in Class I Div 2 hazardous locations, meeting ATEX II 3G Ex nL IIC T6, ANSI/ISA-12.12.01, UL1604 and CSA C22.2 No. 213-M1987.

The EyeCGas provides improved operational safety, shortened inspection times, and increased operational efficiency for companies in the oil and gas industry. EyeCGas users are able to inspect a large area of a facility at a safe distance away from the site of the leak, keeping technicians out of harm's way. The ability to immediately detect fugitive leaks and GHG emissions reduces their environmental impact and enables timely repairs, leading to shortened inspection times and reduced costs for lost product.

"The newly introduced 75 mm lens provides stronger magnification with a narrower field of view, thereby enabling gas detection from longer distances even up to hundreds of meters away," said Omer Yanai, Vice President, Gas Imaging Business Unit of Opgal. "We are proud to provide the only certified equipment in the market. The camera is an ideal tool for companies and regulators looking to protect the environment by reducing GHG emissions."

For more information please visit us at Gastech 2012, Excel, London, October 8-11 at booth A42, or contact gas@opgal.com in order to schedule a meeting.

About Opgal

Opgal delivers advanced vision and surveillance solutions enabling accurate insight into suspicious situations in adverse and harsh visibility conditions. Using state-of-the-art thermal and active-imaging technologies, Opgal leverages advanced electro-optics and image processing expertise to create high- performance, versatile visualization hardware and software products for the security and safety markets. Founded 30 years ago, Opgal is a major supplier to some of the leading contractors and has hundreds of customers in over 50 countries. Opgal is co-owned by Elbit Systems and Rafael Advanced Defense Systems. http://www.opgal.com

For more information please contact:
Alberto Wahnon
wahnon@opgal.com
+972-54-4793704