Product News: Cleaning Products & Equipment
Central Impression (CI Press Cleaner) Drum Cleaner targets wide web flexographic printing industry.
Press Release Summary: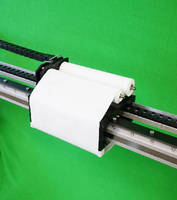 June 3, 2013 - Featuring selectable multi-wiping functions, MX Central Impression Printing Press Drum Cleaner enables operator to select smooth pad or bristle brush for cleaning inks and slip that has accumulated on drum surface. System also offers multi-function controls for maximum wiping effectiveness. It can provide full drum wipe, wipe from center of drum out to each edge of product, or just product edges. In addition, cleaner can wipe in single spot location dialed in on HMI by operator.
R.G. Egan Equipment, Inc. - Webster, NY
Original Press Release
R.G. Egan Equipment Launches New Product for the Wide Web Flexographic Printing Industry
Press release date: May 22, 2013
WEBSTER, NEW YORK – Today R.G. Egan Equipment, the leading manufacturer of automatic roll cleaning systems that are designed for the printing and packaging industry, launched there latest cleaner technology for Central Impression Printing Press Drums.
The unique design is based on two patents owned by R.G. Egan Equipment, Inc. that allow several advantages over designs by other CI Drum Cleaner competitors.  The new MX design is the only CI Drum cleaner with selectable multi-wiping functions.  The operator can select a smooth pad or a bristle brush, a major advantage for cleaning inks and "slip" that has accumulated on the drum surface.  It also allows multi-function controls for maximum wiping effectiveness, such as: Full drum wipe, It can also wipe from the center of the drum out to each edge of the product or just the product edges.  It also can wipe in a single spot location dialed in on the HMI by the operator.
The design includes features considered by customers as highly beneficial for reduced product waste and operator safety concerns.  The new MX Cleaner is capable of wiping the drum with a dry pad when the press is running or using solvents with a simple selector switch.  The compact design allows retrofit on most wide web Central Impression printing presses.
"The selectable features on this machine are far superior when compared to any other designs on the market.  It really takes advantage of the latest servo motor control technology and places it in the hands of the operator," explains R.G. Egan Equipment's Marketing Manager, Greg Egan.  "The design also has cost saving features for cloth roll usage and the 8" wide cloth rolls are economically priced and far easier  to replace by operators compared to full width drum cleaners currently on the market.  We have designs available for both water based and solvent based ink applications.  The system allows high end converters to save money and maximize there investment with the latest CI Press technology". 
We will be pleased to provide more information about our cost saving automatic cleaning system.
About R.G. Egan Equipment
R.G. Egan Equipment, incorporated 20 years, is a leading manufacturer of high efficiency contact web cleaning systems and automated process roll wiping systems used on production machinery throughout the converting industry. Their designs incorporate the latest in control technology with the precision and reliability of CNC manufacturing, then assembled and tested by skilled, U.S. craftsmen before it's shipped to a customer's facility. Regardless of the type of process utilized, when contamination is an issue, a system from R.G. Egan Equipment will improve the bottom line of high performing companies. R.G. Egan Equipment's designs are proven in some of the toughest converting environments around including coating, printing, slitting, casting, laminating and calendaring processes.
R.G. Egan Contact:  
Greg Egan
Email:
sales@rgegan.com
Call: 585.671.0465
Visit the company website: 
www.rgegan.com