Product News: Optics & Photonics
Carbon Dioxide Laser has 40 W output and compact package.
Press Release Summary: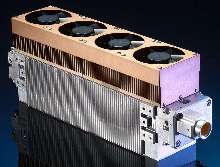 July 7, 2003 - Suited for medium- to high-volume marking, engraving, and desktop manufacturing, GEM-40 low-power, CO2 laser is available in air- and liquid-cooled models and measures 16.2 x 3.6 x 5.5 in. It provides more than 40 W of output power at 10.55-10.63 µm with greater than 98% TEM00 spatial mode and M² less than 1.2 beam quality. With rise time of less than 60 µsec, product runs on 48 Vdc and has one RJ-45 Ethernet connector.
Original Press Release
Coherent Combines Excellent Beam Quality with Compact Package in New 40W OEM Laser
Press release date: June 24, 2003
GEM-40 To Be Featured at LASER 2003 Hall B2, Booth #261 in Munich, Germany, June 23-26, 2003 Santa Clara, Calif., June 24, 2003 - Coherent, Inc. (Santa Clara, CA) (Nasdaq: COHR) unveils a new low-power CO
2
laser that features excellent beam quality and a very small footprint. Called the GEM-40, this OEM laser provides more than 40W of output power at 10.55- to 10.63-µm with a greater than 98% TEM
00
spatial mode and M²<1.2 beam quality. The GEM-40 is ideal for medium- to high-volume marking, engraving and desktop manufacturing. Designed for OEM customers who need added power in an easy-to-integrate, compact package, the new GEM-40 has the same laser cavity as its predecessor, the GEM-30, but with 35% higher rated power. "The advantages of the GEM-40 are obvious. You get the agility and ease of integration that comes with a compact, integrated platform, as well as the reliability and dependability that comes with using a field-proven technology," said Ron Straayer, product manager for Coherent. "The addition of the GEM-40 gives OEMs of the GEM-30 a convenient and cost-effective approach to service their customers who need higher power levels in the same small package." Available in both air- and liquid-cooled models, the GEM-40 measures just 412 mm x 91 mm x 140 mm (16.2 x 3.6 x 5.5 inches) in both the air-cooled and water-cooled versions. The GEM-40 features a rise time of less than 60 µsec. It runs on 48 VDC (12 amps) and has a RJ-45 Ethernet connector. Mounting brackets are also available. Founded in 1966, Coherent, Inc. is a Standard & Poor's SmallCap 600 Company and a world leader in providing photonics-based solutions for the commercial and scientific research markets. Please direct any questions to Ron Straayer, at (860) 243-9557. For more information about Coherent, including product and financial updates, visit our Web site at
www.CoherentInc.com