Product News: Sensors Monitors & Transducers
Capacitive Touchpad Sensor helps operate car functions.
Press Release Summary: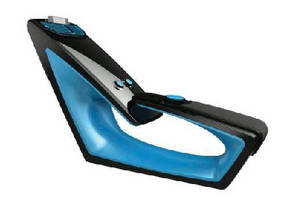 April 11, 2012 - Incorporating handwriting recognition software, Capacitive Touchpad Sensor helps drivers and passengers coordinate and operate variety of functions within car. User writes characters with single finger on touch sensor area and input is interpreted by software and acknowledged by audible feedback. Designed to recognize handwritten numbers, letters, and symbols, touch sensor enables driver to operate mobile phones, navigation systems, and radio as well as send messages, from single point.
Original Press Release
TRW Introduces Touchpad Technology
Press release date: April 2, 2012
LIVONIA, Mich., -- TRW Automotive Holdings Corp. (NYSE: TRW) has today unveiled its new capacitive touchpad sensor incorporating advanced handwriting recognition software to help drivers and passengers coordinate and operate a variety of functions within the car. The new touchpad has the advantages of improved human machine interface (HMI), advanced recognition functionality and smaller packaging and greater design freedom within the driver cabin. Frank Koch, advanced engineering manager for TRW's Body Control Systems commented: "The increase in mobile connectivity has inspired us to create a single point of contact between the driver and applications used in the vehicle which will enhance user-friendliness, comfort and help improve safety. TRW research has shown that the use of in-vehicle handwriting recognition operation reduces driving deviations by 78 percent compared with the alphanumeric keyboard method." The handwriting-recognition touch pad can be used as a standalone product or as a multifunction control panel. The user 'writes' individual characters with a single finger on the touch sensor area and this input is interpreted by software and acknowledged by an audible feedback. The touch sensor is able to recognize handwritten numbers, letters and symbols and enables the driver to operate applications such as mobile phones, navigation systems and the radio as well as sending messages, from a single point. It even has the potential of replacing simple switches within the car. Koch continued: "One of the key features is the system's ability to recognize written inputs and allow an intuitive and fast handling of applications. For the first time, the user is able to input symbols such as Chinese characters without the need of writing aids that normally transcribe those characters into the Latin alphabet. The touchpad technology has huge potential for global vehicle markets." The design and location of the multifunction controller is flexible and can be developed to suit customer needs. TRW's tests have shown that either the center console or the door armrests are the optimal locations. The new touchpad technology will be ready for production by 2012. About TRW
With 2011 sales of $16.2 billion, TRW Automotive ranks among the world's leading automotive suppliers. Headquartered in Livonia, Michigan, USA, the Company, through its subsidiaries, operates in 26 countries and employs over 60,000 people worldwide. TRW Automotive products include integrated vehicle control and driver assist systems, braking systems, steering systems, suspension systems, occupant safety systems (seat belts and airbags), electronics, engine components, fastening systems and aftermarket replacement parts and services. All references to "TRW Automotive", "TRW" or the "Company" in this press release refer to TRW Automotive Holdings Corp. and its subsidiaries, unless otherwise indicated. TRW Automotive news is available on the internet at
www.trw.com
. CONTACT: Lynette Jackson, (44) 121.506.5315, lynette.jackson@trw.com, or John Wilkerson, +1-734-855-3864, john.wilkerson@trw.com, both of TRW Automotive Web Site:
www.trw.com