Product News: Non-Industrial Products
Candle Jars and Wicks are ideal for producing in batches hundreds at a time.
Press Release Summary: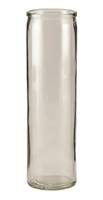 November 30, 2016 -
Measuring 8.13 inch height and 2.31 inch diameter, 7-day prayer candle jars offer large surface to apply custom label up to 7.5 inch high. Available in bundles, wicks include high melt natural coating and 6 mm safety clip pretab. Featuring paper fiber flat braid design, wicks are 10" long specifically designed to work with prayer candle jars.
Fillmore Container, Inc. - Lancaster, PA
Original Press Release
Fillmore Container Adds Prayer Candle Jars and Wicks
Press release date: November 29, 2016
Fillmore Container introduces 7-day prayer candle jars and wicks to its product offerings. The clear, cylinder glass candle jar, along with the high-melt candle wicks are perfect for any candle maker, amateurs and professionals alike. The jars and wicks are both available for bulk purchase, ideal for making batches from a dozen to hundreds at a time.
The classic, clear glass 7-day prayer candle jar is 8.13 inches high by 2.31 inches in diameter. The prayer candle jar offers a large surface to apply a custom label up to 7.5 inches high. The wicks are available in bundles of 100 and made in the USA. The wicks include a high melt natural coating, with a 6mm safety clip pretab, featuring a flat braid design with paper fiber throughout. The 10" length is specifically design to work with the prayer candle jars.
The 7-Day Candle Jars and Wicks are both available for purchase through Fillmore Container.
About Fillmore Container
Fillmore Container, formed in 1995 and based in Lancaster, PA, is a distributor of packaging products and candle making supplies. Its mission is to offer the best selection, price and service for quality glass containers including food containers, closures, canning accessories, candle containers, candle wax, fragrance oils, candle wicks, and candle accessories. Fillmore Container is dedicated to supplying the best price, service and logistical support for packaging needs. Products are suitable for food & beverage, drug & pharmaceutical, and cosmetic applications. www.fillmorecontainer.com
Contact:
Lisa Reinhart
Phone: 866-345-5527
Email: info@fillmorecontainer.com

 Website: www.fillmorecontainer.com