CAM Software includes entry-level 3D milling option.
Press Release Summary: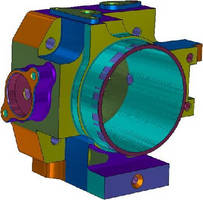 October 10, 2012 - With 3D option, Delcam for SolidWorks 2013 includes all 2D and 2.5D strategies, plus 3D single-surface strategies for Z-level roughing, with either offset or raster, and finishing with raster, isoline, or spiral. In high-speed machining module, step cutting has been added within area clearance to remove large terraces that can be left on part when using deep roughing cuts. Added 5-axis strategies include flowline machining between 2 curves, pencil machining, and corner re-machining.
Original Press Release
Delcam Launches Delcam for SolidWorks 2013
Press release date: October 3, 2012
Delcam has launched the 2013 version of Delcam for SolidWorks, the integrated CAM system for SolidWorks.  The new release includes a new entry-level 3D milling option, plus many of the enhancements made to the 2013 version of the FeatureCAM feature-based programming system on which it is based.  As a Gold Partner CAM product, it is, of course, fully compatible with the latest release of SolidWorks.  Full details are available on the learning zone at www.delcam.tv/dfs2013/lz.

The new entry-level 3D option includes all the 2D and 2.5D strategies available in Delcam for SolidWorks, plus the 3D single-surface strategies for Z-level roughing, with either offset or raster, and finishing with raster, isoline or spiral.  It is intended mainly as an introductory level program for companies new to 3D machining but will also be useful for users that only have an occasional need for 3D capabilities or that only machine softer materials.

A number of new strategies have been added to the high-speed machining module in Delcam for SolidWorks.  Step cutting has been added within area clearance to remove large terraces that can be left on the part when using deeper roughing cuts.  Extra toolpaths can now be generated that step back up the terrace with the existing large tool, adding extra cuts at intermediate levels.  This results in more material being removed, using the same tool within the same toolpath.

Automatic splitting of finishing between steep and shallow areas of the part has been enhanced with the ability to use the scallop height to control the stepover.  Using this value rather than setting a constant stepover distance gives better control of the surface finish.

Both roughing and finishing strategies now incorporate an "area filter" to remove small enclosed pockets within the part from the toolpath.  Any attempt to cut these areas risks damage to the tool, even though it is mathematically possible to remove the material.

Delcam for SolidWorks now gives the option of using bottom-up machining for Z-level finishing as well as the conventional top-down approach.  This can be useful when using a ball-nose end mill as it avoids cutting with the centre of the tool and so gives a better surface finish and longer tool life.

New five-axis strategies available in Delcam for SolidWorks 2013 include flowline machining between two curves, pencil machining and corner re-machining.  These options for simultaneous five-axis machining allow a better surface finish to be achieved as well as ensuring access to more areas within the part in a single set-up.

New options have also been added to give smoother five-axis machining.  A new look-ahead capability will remove any sudden tool-axis changes during automatic collision avoidance and, instead, ensure that a smooth transition takes place.  In addition, the ability to smooth the Azimuth and Elevation axes independently is now available, allowing excessive five-axis movement to be removed.  These options stabilise the rotary axis movement by maintaining a fixed tool axis as far as possible, thus replacing constant five-axis movement with a series of 3+2-axis segments having full five-axis transitions between them.

Enhancements have also been made to the turning and mill-turn modules within Delcam for SolidWorks.  In particular, support is now available for simultaneous b-axis turning for more complex turning operations.  This allows more positioning options to be used for a single tool, so minimising tool changes and the associated dwell marks or surface blends.

Delcam for SolidWorks combines the benefits associated with Delcam's PowerMILL and FeatureCAM CAM systems.  It is based on Delcam's proven machining algorithms that are already used by more than 35,000 customers around the world.  The software offers PowerMILL's exceptional speed of toolpath calculation, plus the advanced strategies for high-speed and five-axis machining, to ensure increased productivity, maximum tool life and immaculate surface finish, even when cutting the hardest, most challenging materials.  At the same time, Delcam for SolidWorks has the same strong focus on ease of use as FeatureCAM, including all of the knowledge-based automation that makes that system so consistent and reliable.

Delcam for SolidWorks is fully integrated into the SolidWorks environment so that the program looks and behaves like SolidWorks.  It offers full associativity so that any changes in the CAD model are reflected automatically in the toolpaths.  However, this associativity is more intelligent than that offered in many other integrated CAM systems.  Delcam for SolidWorks doesn't simply modify the existing toolpaths but also reviews the choice of cutting tools and machining strategies, and changes them if necessary.

For further information on Delcam for SolidWorks, please contact: -
Peter Dickin, Marketing Manager
Direct phone: 44 (0)121 683 1081 
e-mail: marketing@delcam.com

Delcam plc,     
Small Heath Business Park,   
Birmingham, B10 0HJ, UK
www.delcam.com

Caption: Delcam for SolidWorks 2013 includes a new entry-level option for 3D machining